Baked barbecued pork puffs (char siu puffs/su)
Baked barbecued pork puffs (char siu puffs/su)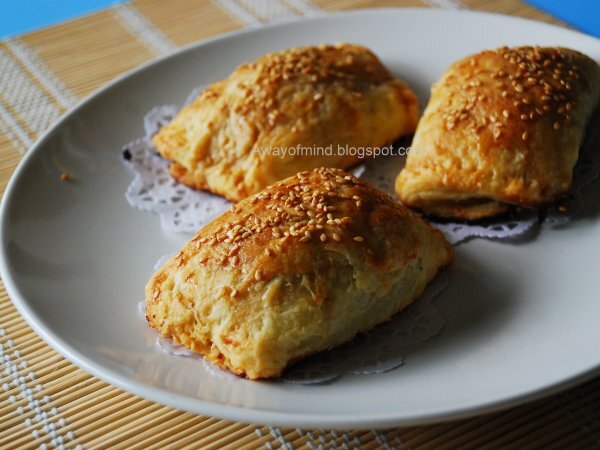 pork, BBQ sauce, oyster sauce, bread flour, plain flour, etc.
Ingredients
Recipe adapted from Veganbaking.net with minor changes
---
270g
butter
, cut into small pieces (it has to be cold not soften)
---
50g shortening, cut into small pieces
---
1/4 cup of plain flour
---
1 1/2 cups bread flour
---
1 1/4 cups plain flour
---
---
100g butter, cut into small pieces
---
180ml ice cold water
---
---
2 tbsp maple syrup
---
sesame seeds
---
Ingredients for filling, from Ah Tze's kitchen play
---
600g
pork
, diced into small pieces
---
3 clovers of
garlic
, finely chopped
---
3 tbsp of BBQ sauces
---
1 tbsp of oyster sauce
---
1 tbsp of sugar
---
200ml water
---
2 tbsp cornstarch for thickening the gravy
Preparation
Step to prepare butter square:

1. In a bowl, add the butter pieces, the shortening and flour. Used hand to rub the butter into small chunks and rub them loosely with the flour until fine.
2. Wrap the butter dough in a wrapping film, press together to form a rough shape. Use a rolling pin to roll into a square. (I didn't measure the dimension).
3. Refrigerate for at least one hour or better if place it overnight.
Step:
1. Add the flour and salt to a medium bowl and mix to combine. Use a pastry cutter to cut in the butter until the mixture has pea-sized chunks of butter. Gradually add the ice water. Use a spoon to mix and combined well.
2. Transfer the dough to clean surface, knead until getting a smooth dough. Roll the dough into a ball, cover with wrapping film and keep in fridge for at least two hours.
3. After two hours, place the dough on a lightly floured surface, using the rolling pin roll out a big square like in figure A-1.
4. Place the butter square diagonally on top of the dough as in figure A-2. Wrap up the butter square as in figure A-3, seal the opening tightly.
5. Flatten the dough from the centre and roll it into a bigger square, about 14 inch. flour the rolling pin and dough if the dough becomes sticky.
6. Fold the dough in three folds like a tri-fold business letter. This is known as a turn in the laminated dough world.
7. Now turn the dough 90 degrees and fold it in three folds again so it turns into a square. This counts as another turn. Wrap the dough in plastic wrap and refrigerate for at least one hour for the dough to relax. The dough will become more pliable and elastic.
8. Repeat step 5-7 for another two times.
9. Flatten the dough and cut it into desire portion as in figure A-5. Take up a piece of the dough, roll it slightly to a bigger piece, wrap in filling and seal the opening by pressing the edges of the dough with a fork.
10. Place on the baking tray. Let the puff rest for 15 mins. dough wash and sprinkle with sesame seeds.
11. Place into a preheat oven at 210C bake for 15 mins and lower the heat to 180C bake for another 15 mins or until the puff turned golden brown. Check wheather the inner layers of the puff is baked
Step:
1. Marinate the pork with BBQ sauce, oyster sauce, and sugar for 30 mins. Add oil to frying pan, fry garlic until aromatic, stir in BBQ pork. Add water, drizzle conrstarch water to thicken the sauce (sauce must be very dry), stir-fry for another 10 mins (or you may cook in happycall pan like I do). Set aside to cool.
Questions:
What kind of barbecue sauce?
Answer:
Masterfoods brand barbecue sauce or any brown barbecue sauce can do.
Related recipes
Recipes