Herb roasted chicken thighs wth potatoes and green peas
Herb roasted chicken thighs wth potatoes and green peas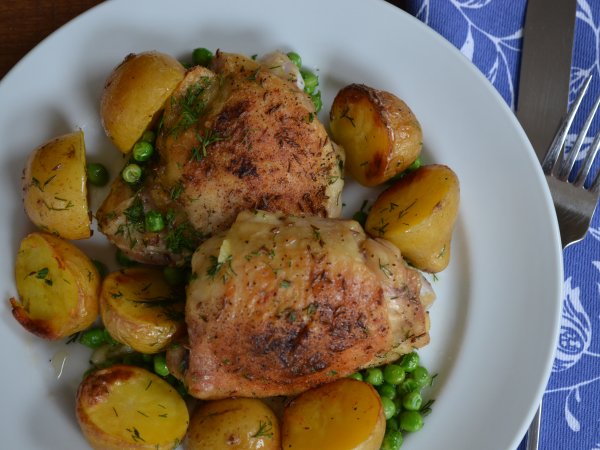 Chicken thigh recipes have always been popular on my website, and this is no exception.
This recipe is fast, very easy, and provides you with a complete meal that serves 4
This recipe adapted from Real Simple, February 2013.
Visit www.smellofrosemary.blogspot.com to view more recipes.
Ingredients
11/2 lbs new
potatoes
, cut in half, or quartered if large
---
---
8 bone-in and skin-on
chicken
thighs about 21/2 pounds
---
1 teaspoon caraway seeds
---
---
1 cup frozen
peas
, thawed
---
2 tablespoons fresh lemon juice
---
2 tablespoons chopped fresh dill
---
1 teaspoon salt, divided
---
1 teaspoon black pepper, divided
Preparation
Preheat oven to 450 F and place rack in the highest position.
Line large cookie sheet with aluminum foil. Place potatoes and toss with olive oil and 1/2 teaspoon salt and 1/2 teaspoon black pepper.
Trim chicken from any excess fat and season with caraway seeds, dry mustard and remaining salt and black pepper.
Roast for about 30 minutes, until potatoes are soft and chicken is cooked through. Toss potatoes once during the roasting. Add peas and roast for 3 to 4 more minutes.
Sprinkle with dill and lemon juice. Enjoy!
Questions:
Related recipes
Recipes