Jack daniels beef brisket
By
shg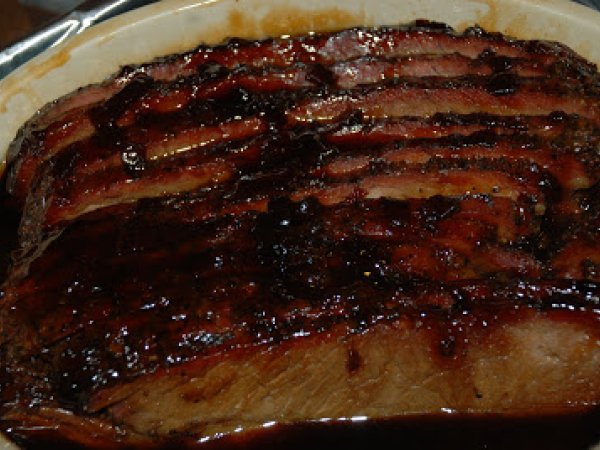 Recipe type:

Main Dish

Number of serving:

10 servings

Preparation:

25 min

Cook time:

6 hours

Ready in:

6 h, 25 m

Difficulty:

Easy
Ingredients
- 1 (4 to 6 pound)
beef
brisket
- 1 medium
onion
, finely chopped
- ¼ cup Jack Daniel's Whiskey
- ¼ cup soy sauce
- ¼ cup
ketchup
- ¼ cup brown sugar
- ¼ cup cider vinegar
- 2 tablespoons Dijon
mustard
- 1 tablespoon Worcestershire sauce
- 2
clove
garlic, minced
- ½ teaspoon liquid smoke, optional
- Black pepper, to taste
Preparation
Step 1
Heat the oven to 300°F. Put brisket fat-side up in a roasting pan and sprinkle with the onion. Combine all the remaining ingredients in a large measuring cup.
Step 2
Pour over the brisket. Cover tightly with heavy duty aluminum foil. Bake about 4 hours or until the internal temperature reaches 190°F and meat is tender.
Step 3
Let the meat rest at least 10 minutes before carving across the grain into thin slices with a sharp knife. Serve with pan drippings.
Step 4
Even better, cook the brisket a day before serving. Remove the cooked brisket from the drippings. Cover tightly with foil and refrigerate overnight.
Step 5
Refrigerate the drippings and skim off the hardened fat the next day.
Step 6
Before serving, slice the brisket while it's cold for a much neater cut. Combine the meat with the pan drippings in a baking dish.
Step 7
Cover and reheat at 325°F for about 30 minutes or until thoroughly warm.
Related recipes
Questions:
Can you put this in the slow ccoker?
Answer

Petitchef

:
Sure, it is an ideal way to cook a beef brisket!
By
shg

---
---
Related video
Recipes