Jackfruit biryani
Jackfruit biryani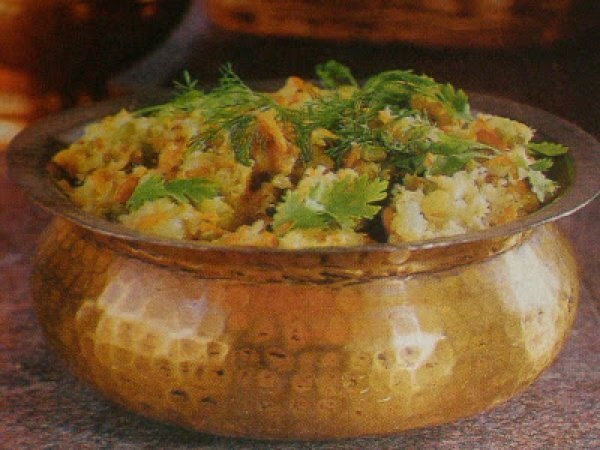 Ingredients
500 g raw Jackfruit
---
2 cups basmati
rice
, soak in water for half an hour
---
4 cups water ( for cooking )
---
1 cup sour curd
---
---
12 green chillies, slit
---
---
---
2 tablespoon khus khus ( poppy seeds )
---
2 tablespoon cashew nuts
---
1/4 bunch
mint
leaves, chopped
---
1/4 bunch coriander leaves, chopped
---
4 cardamom
---
4 cloves
---
2 small cinnamon sticks
---
6 - 8 tablespoon ghee
---
1 - 1 1/2 teaspoon salt ( or to taste )
Preparation
Grind ginger, garlic, cashew nuts and khus khus into a smooth paste.
Skin and cut the raw jackfruit into cubes ( seeds removed ) and cook till nearly tender in water, with a little salt and turmeric. Drain off water.
Heat 3 tablespoon of ghee in a pan. Add ginger - garlic - cashew nut - khus khus paste. Fry on a low heat till the raw smell goes.
Add boiled jackfruit, slit green chillies and curd and cook till dry. Heat 3 tablespoon ghee in a vessel, add the whole garam masala ( cardamom, clove and cinnamon ).
When it sizzles, add the onions and fry till golden color and fragrant. Add washed and drained rice. Fry for 3 - 4 minutes on a low heat.
Add salt to taste and 4 cups of water. Cover with a lid and cook on a low heat till done.
Add jackfruit mixture, mint and coriander leaves and the remaining ghee. Cover with a lid and cook till dry. Serve hot with raita.
Observations:
Only care needs to be taken while cutting the jack fruit is the management of sap which comes out when it is cut. It can be really messy and sticky. Applying any edible oil on ones palms and knife before cutting the fruit will minimize this. Also, finish the cutting and cleaning process in one go.
Questions:
Related recipes
Recipes