Muttai podimas biryani/ scrambled egg biryani.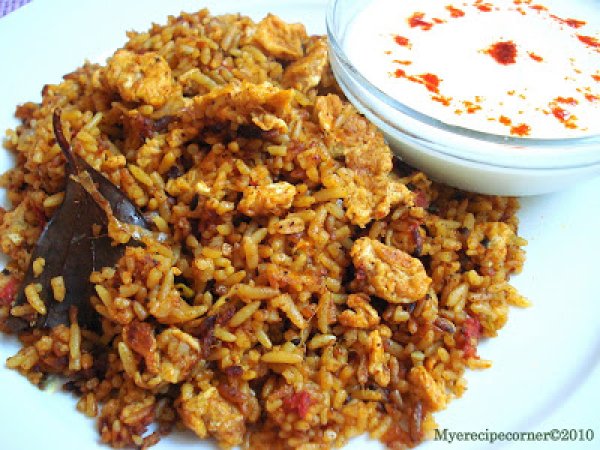 Preparation
In a medium sized bowl add 1 teaspoon red chilly powder, 1/4 teaspoon turmeric, required salt for the eggs and 1 teaspoon water and mix well.
Add the eggs one by one to this red chilly mixture and beat the eggs till frothy. Next in a small pan heat 2 teaspoon of oil, add chopped onions and green chillies and fry till onions turn pink.
When onions are done, add the beaten egg mixture to the onions. Reduce the heat to medium, stir well the egg mixture with spatula and break eggs to small pieces and cook till done. Set aside.
( You can also serve this Muttai podimas/ Scrambled eggs with bread, roti and rice)
For preparing Biryani:
In a pressure cooker heat 4 to 5 tbsp oil, when hot add the tempering ingredients and fry till the aroma rises. Add the chopped onions, fry for 2 mins until onion turns pink, next add the ginger and garlic paste and fry till the raw smell leaves. Add the red chilly powder, turmeric powder, garam masala powder and black pepper powder, fry for few more mins. Now add the chopped mint and coriander leaves, chopped tomatoes and thick curd.
Fry till the tomatoes are mashed, add required salt and water for the rice. Bring the mixture to boil and add the rice, cover the pressure cooker with lid, reduce the heat and cook till rice is tender and done.
Finally add the prepared muttai podiams/ scrambled egg to the rice and mix well. Set aside Biryani for few mins till the eggs and rice are blended together. Serve hot with Raita of your choice.
Questions:
You may like
Recipes