Potluck Idea: Black Beef Dry Curry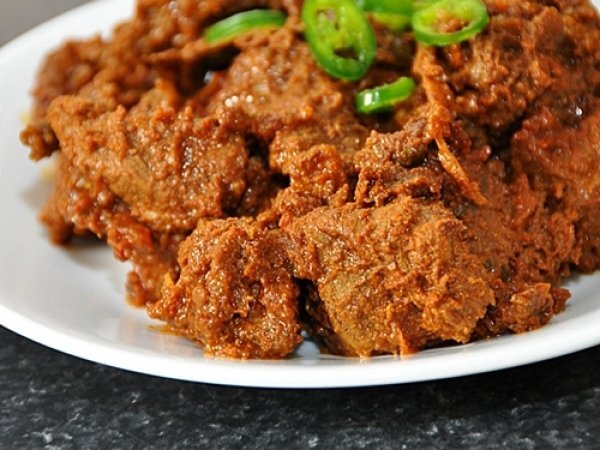 Preparation
In a small bowl, combine the curry powder and 10 tablespoons of water to create a paste. Set aside for 1/2 hour or more.
This step will ensure a smooth sauce rather than grainy.
Add curry leaves in hot oil and fry.
Add onions, garlic, ginger and green chilli. Fry until fragrant.
Add the curry paste and mix with the onion mixture. Fry for 10-15 minutes over low heat until the oil begins to separate.
Add tomatoes, beef, dark soy sauce, sugar and salt (suggest adding about 1/2 tablespoons sugar and salt, respectively, you can add more later).
Add a little water (enough to cover the beef) and cook until beef is tender on the low to medium heat.
This will take about 1 1/2 hours. Please check after an hour to ensure that curry does not stick.
Reduce heat and simmer for 15-20 minutes or until sauce is thickened and dark brown.
The duration depends on the amount of liquid is absorbed by the beef 1 1/2 hours after cooking.
Season with salt and sugar to taste and better serve with rice.
Questions:
You may like
Recipes