SARSON MASALA BHINDI (OKRA COOKED IN MUSTARD PASTE)
SARSON MASALA BHINDI (OKRA COOKED IN MUSTARD PASTE)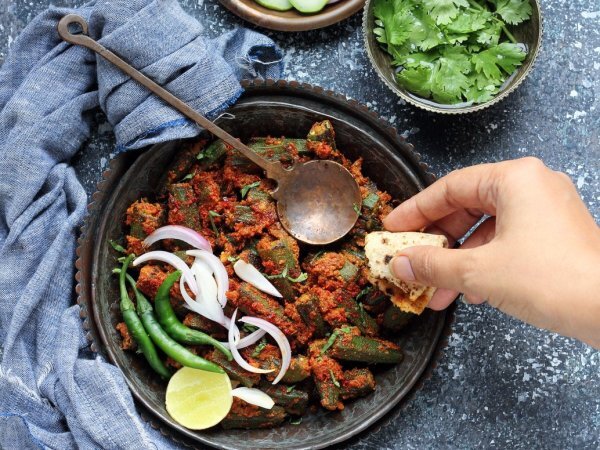 A delicious okra curry cooked in yellow mustard paste.
Ingredients
350 grams okra
---
1 tbsp yellow
mustard
seeds (powdered and mixed with 2-3 tbsp of water to make a paste)
---
---
---
---
1 pinch fenugreek seeds
---
---
1 tbsp mustard oil
---
1 tbsp vegetable oil (you may even use sunflower oil or even olive oil)
---
1 generous pinch of asafoetida
---
½ tsp chilli powder
---
½ tsp turmeric powder
---
½ tsp garam masala
---
Salt to taste
Preparation
Wash and pat dry the okra and chop it in 1 inch pieces.
Pour 1 tbsp of vegetable oil in a hot wok and add asafoetida to it. When it turns golden brown add the okra and fry for 2-3 minutes on high flame. Once done, remove from the wok.
Pour 1 tbsp of mustard oil and let it smoke.
Remove it from heat and add cumin and fenugreek seeds. Let them splutter.
Add mustard paste along with the ginger and garlic paste.
Fry this paste till it starts becoming dry and changes to brownish colour. (This paste is delicate and you need to constantly keep stirring it to prevent it from getting burnt)
Add 3 tbsp water and fry it till it becomes dry and brownish coloured again.
Add the puréed tomato along with the dry masala ? chilli, salt, turmeric and garam masala.
Saute for half a minute and add the okra. Cook on low flame till the okra is done.
Serve with Sattu ka Parantha.
Questions:
Related recipes
Recipes