Spaghetti carbonara with lobster mushrooms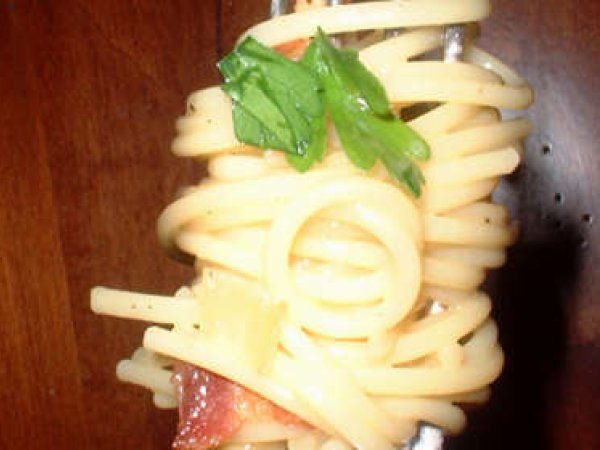 Preparation
In a large skillet, cook the bacon over medium-high heat until crisp. Remove with a slotted spoon and reserve in a medium bowl. Reduce heat to medium and add the chopped onion to the bacon drippings; saute, stirring occasionally, until onions are translucent and tender. Remove onions to the same bowl as the bacon.

Add the butter to the skillet and melt, then add the lobster mushrooms, stirring occasionally. Saute until cooked and soft, approximately 10 minutes. Add mushrooms to bowl with bacon and onions.

Meanwhile, in a small bowl, combine the egg yolks, Parmesan cheese, cream, salt and pepper, whisking to combine thoroughly. Add approximately 1/4 cup of boiling water from the pasta pot, stirring constantly, to temper the egg yolks.*

Put drained spaghetti in a large bowl; add onions, bacon and mushrooms. Pour egg and cream sauce over everything, stirring until combined and creamy. Add parsley; mix to combine and serve.

*Tempering the eggs is important because if the eggs are added to the hot pasta will cause it to cook into little lumps instead of staying creamy.

©The Mom Chef. All rights reserved.
Questions:
You may like
Recipes