Spicy sweet salmon with fennel pollen
This recipe is for one per my blog, Sola Gina nella Cucina, but easy to scale up for more. In search of new ways to use Fennel Pollen, I created this recipe; it is yummy and could be called Caramel Salmon! If you do not have fennel pollen, you may substitute Chinese 5 spice powder. Enjoy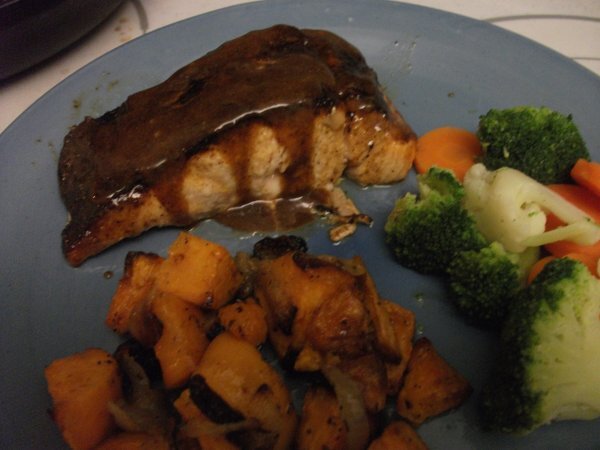 Recipe type:
Main Dish
Number of serving:
1 servings
Preparation time:
10 minutes
Cook time:
10 minutes
Ready in:
20 minutes
Difficulty:
Easy
Ingredients:
1/2 pound fresh
salmon
fillet
1/2 teaspoon each
paprika
garlic powder
chipotle pepper seasoning and fennel pollen,
1/4 teaspoon ground
cumin
1 1/2 teaspoons brown sugar
1 teaspoon honey
1 teaspoon sherry vinegar
1 tablespoon
mayonnaise
olive oil
Preparation:
Step 1:
preheat oven to 400 degrees
Step 2:
Mix paprika, garlic powder, chipotle pepper seasoning, fennel pollen, cumin and brown sugar together.
Step 3:
Divide spice mixture in half.
Step 4:
Brush salmon with olive oil and half of spice mixture.
Step 5:
Whisk remaining spice mixture with honey, sherry vinegar and mayonnaise until smooth.
Step 6:
Heat 1 teaspoon oil in an ovenproof skillet and saute salmon, skin side up for 1-2 minutes. Turn and spread a little of sauce mixture over top.
Step 7:
Bake for 8-10 minutes and serve with remaining sauce
Questions:
Related video
Related recipes
Recipes
Related articles
Impress your friends with these St Patrick's day recipes!