Teriyaki salmon and some other nice things
Teriyaki salmon and some other nice things
A quite simply delicious and soft recipe.
Ingredients
2 pieces of
salmon
fillet - skinless
---
a bottle of Teriyaki marinade - you wont need the whole bottle though!
---
1 small cube of fresh
ginger
root (half and inch cube) - peeled and finely diced
---
1 small
carrot
- sliced into very thin strips
---
half of a red bell pepper, or any colour you fancy - sliced into thin strips
---
1 small red
onion
- again sliced into thin strips
---
half of a fresh green chili pepper - de-seeded and sliced very finely
---
a
lime
- slice half of it and keep half for squeezing over that salmon later on
---
a little olive oil
Preparation
Put the salmon fillets into a small dish and add a good dose of the marinade and the chopped ginger. Cover with cling film. Keep basting them and leave for at least half an hour.
Preheat your oven to 200C/400F or Gas 6. Remove the salmon from the marinade but reserve the liquid for later.
Get yourself a two large pieces of good quality kitchen foil - the thin stuff isn't any good as it will tear easily.
Drizzle a little olive oil on each piece of foil. Lay one piece of salmon in each foil , you will be making a parcel from the foil.
Add equal amounts of the sliced ingredients, bell pepper, onion, carrot and lime to each parcel and sprinkle with the chopped chili pepper.
Squeeze the lot with a little lime juice from the half you kept earlier. Drizzle with a little of the marinade liquid and a little olive oil. Bring the foil up each side till they meet and make a parcel.
Pop them onto a baking tray into a preheated oven for about 20 minutes - depending on the size of your salmon pieces.
Photos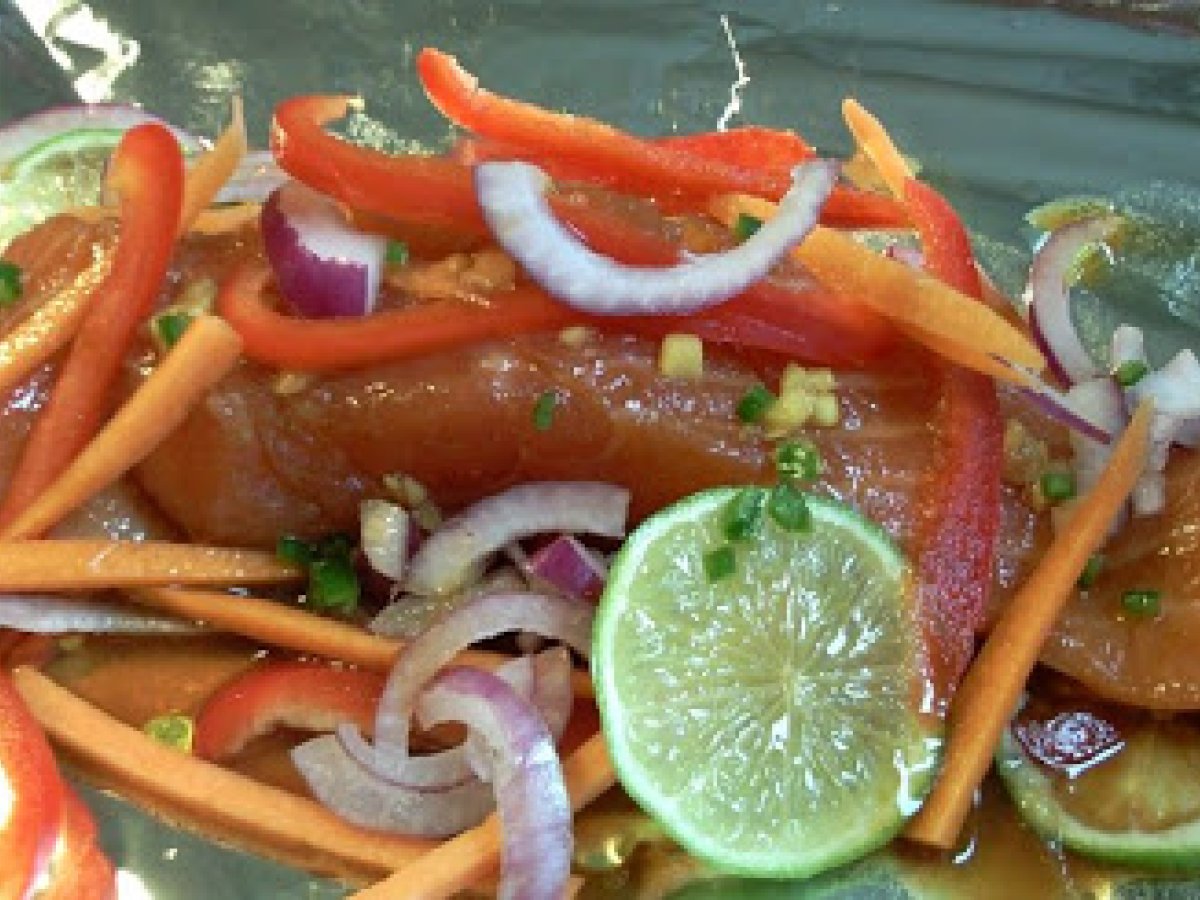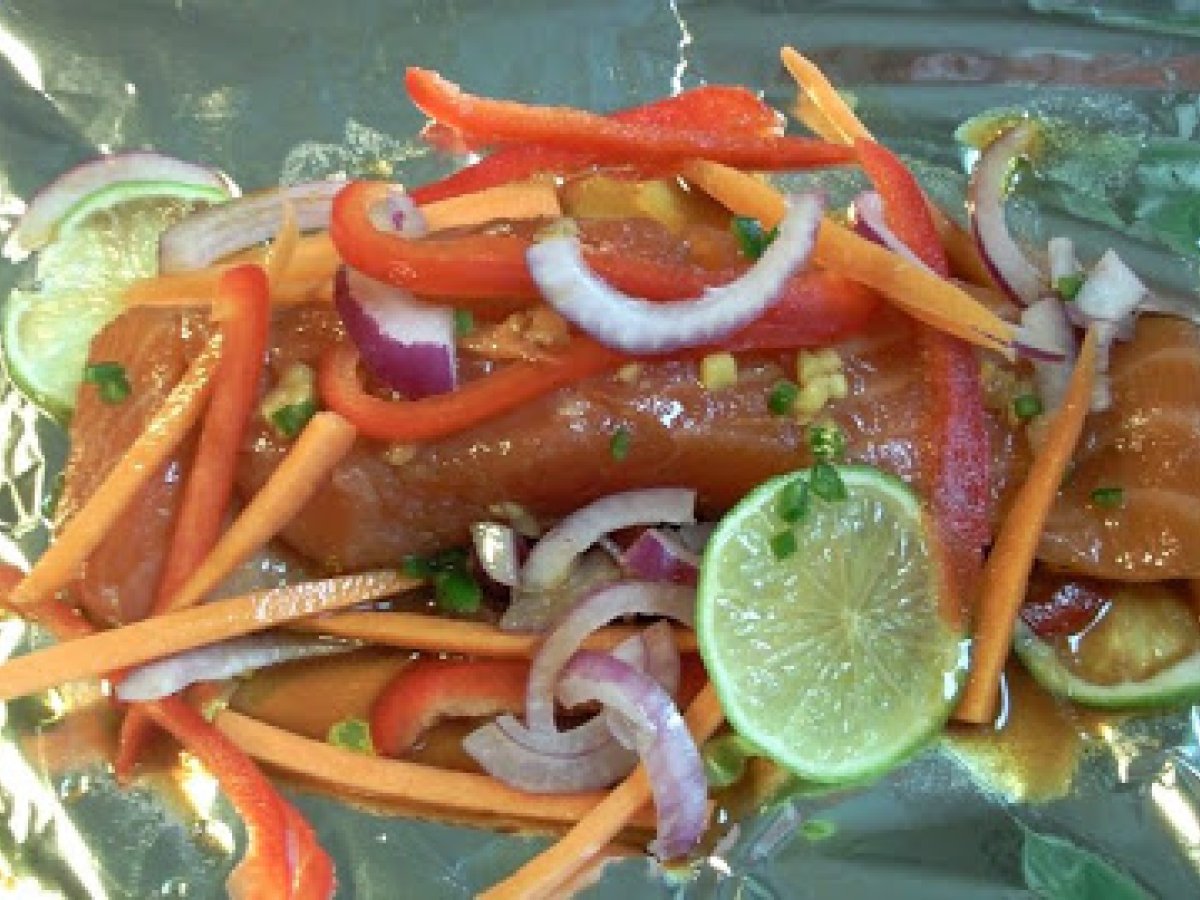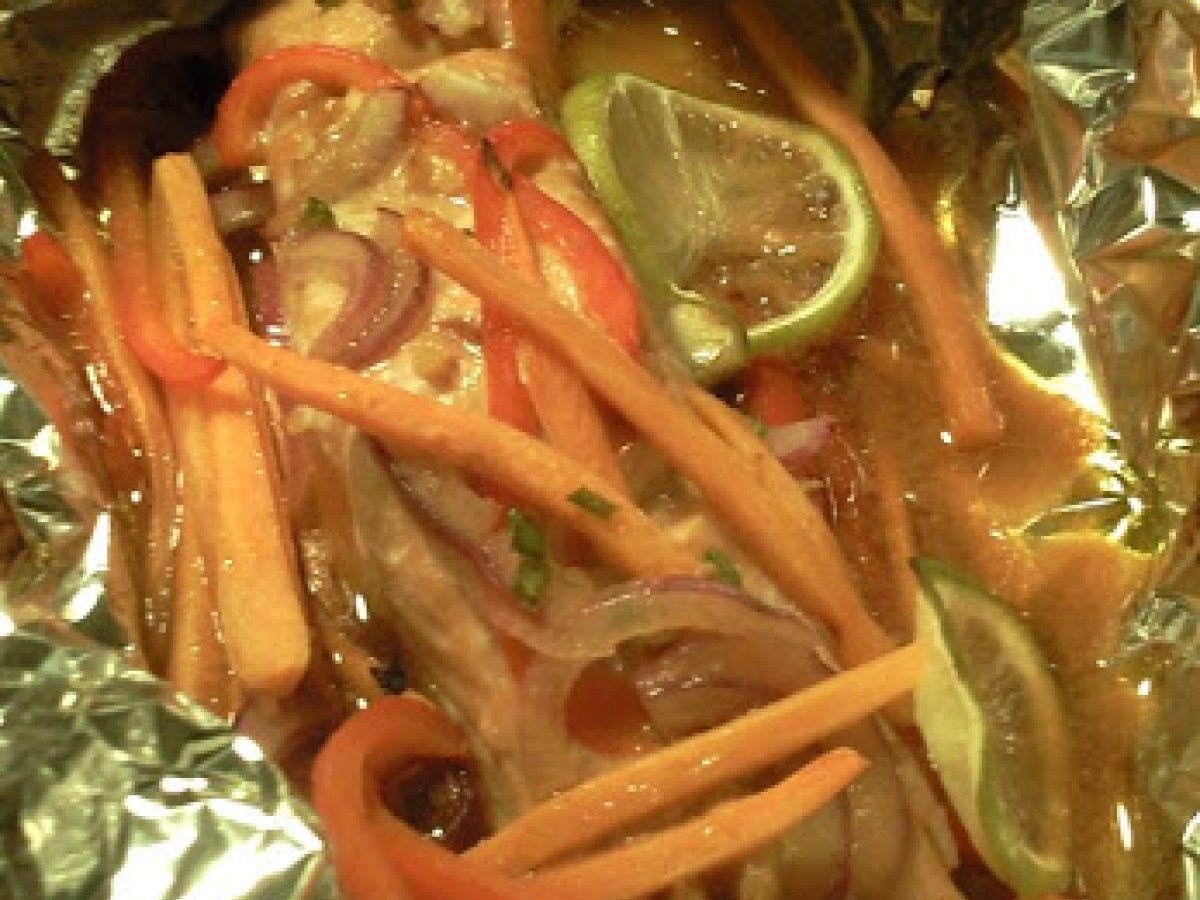 Questions:
Related recipes
Recipes
Related articles