Kele Ka Malpua -(Whole Wheat Banana Pancakes in Sugar Syrup)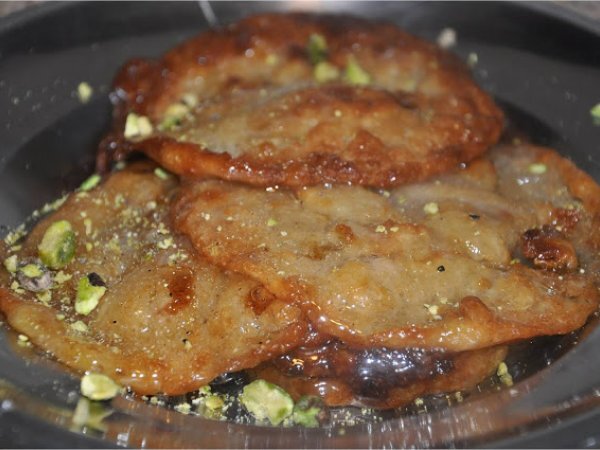 Preparation
Mix everything under For Batter well. Add milk little by little after adding 1.25 cups by eyeballing it. The batter should not be very runny, it should be little bit thicker than usual cake/dosa batter.
Basically, when you pour a ladle in oil, it should hold shape of a circle and not run haywire.Keep it aside for 4-5 hours. Prepare sugar syrup of 1 string consistency by mixing the ingredients under For Sugar Syrup.
Keep it warm (not hot) when you are ready to fry malpuas. Take a small pan and add enough oil to be able to fry malpuas (feel free to add a lot of oil, but that is not needed). Once the oil is hot, slow the fire and keep it that way as we want to fry these malpuas in slow heat (not all the way slow, but not very high either).
Now, take a ladle full of batter and try to pour it in a circular form in the middle of your pan (or wok whatever you are using). Make sure, it is not too thin, or else it will break apart. Let it be thick like a thin cookie thickness. You will notice that it will slowly come up.
Let it cook on both sides for abour 1-2 minute (depending on how hot your oil is). Please do not turn the malpua multiple times, so remember you flip only once.
Once it is golden brown, drain it properly and dip it directly in the sugar syrup (if your malpua has lot of excell oil, please feel free to drain it first in the paper towel). Let it be in the sugar syrup for about 5-10 seconds and remove it.
Serve it warm (warm is good as it has syrup or else the syrup will crystallize) garnishing with some sliced or chopped pistachios.
Questions:
You may like
Recipes