Masala biscuits
Masala biscuits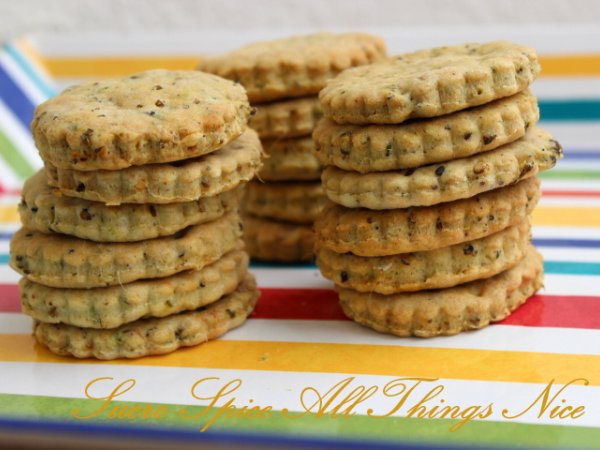 Masala biscuits are again very popular and found in almost every Indian household. Though the masala or spices may vary from region to region.These savory cookies have an assortment of spices.
Ingredients
250 gm plain flour
---
2 Tbsp fine white or brown
rice
flour (optional)
---
1 tsp baking powder
---
1/4 tsp baking soda
---
1/2 tsp
salt
(or according to your taste)
---
115 gm chilled
butter
, cut into small pieces
---
3 green chilies, deseeded and chopped
---
3/4 inch piece of
ginger
, finely grated
---
1-1/2 tsp whole peppercorn, crushed coarsely
---
1-1/2 tsp
cumin
seeds, toasted and crushed coarsely
---
1 Tbsp granulated sugar
---
1-1/2 Tbsp finely chopped curry leaves
---
1 Tbsp finely chopped fresh coriander
---
3 to 4 Tbsp cold yogurt
---
1-1/2 Tbsp black or white sesame seeds
---
A little oil to brush the tops of the biscuits/ cookies
Preparation
Put both flours, salt, baking powder and baking soda into the bowl and add the pieces of chilled butter. Pulse, using the food processor, until the mixture takes on the texture of breadcrumbs.
Now add the chopped green chilies, finely grated ginger, crushed peppercorn and cumin,sugar, the chopped curry leaves and coriander leaves. Pulse a couple of times to mix well.
Then add 2 tablespoons of yogurt and pulse again. Add one more tbsp of yogurt (or two, as much as needed), and pulse again until the dough just comes together and clumps together.
Do not over process or knead. The dough should be just moist enough to bring everything together to shape into a ball.

Flatten it into a disc and cover the dough with plastic wrap and let it rest in the refrigerator for at least hour.
Pre-heat your oven to moderate 180°C and line your baking trays with parchment or grease them with oil.
Lightly dust your working surface and roll out the dough to 3 mm thickness. Sprinkle the sesame seeds uniformly over the dough and use your rolling pin, very lightly, to press them in.

Using cutters of your choice , cut out biscuits/ cookies and place them on lightly greased baking trays. Brush a very thin coat of oil over them. This will help them brown while baking.
Bake them for about 20 to 25 minutes or till they're done and golden brown on the top. Let them cool on the trays for about 5 minutes and then cool them on racks.
Questions:
Related recipes
Recipes