Pizza factory breadsticks
By
nummies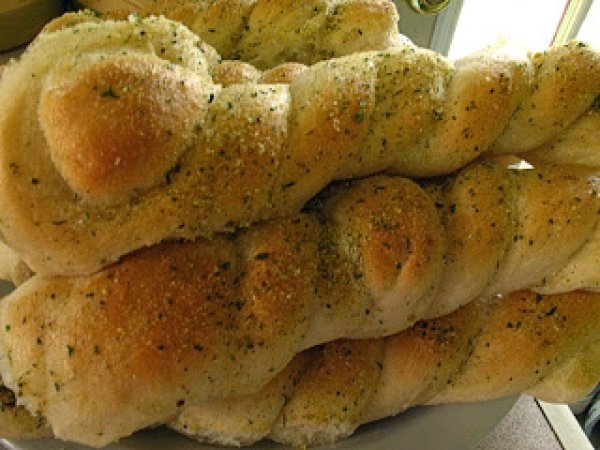 Recipe type:

Other

Number of serving:

5 servings

Preparation:

15 min

Cook time:

12 min

Ready in:

27 min

Difficulty:

Very Easy
Ingredients
Preparation
Step 1
Combine (in a Bosch mixer or something like it) water, sugar, salt, yeast, and enough flour to make a soft dough. Knead for 3-4 minutes.
Step 2
On greased countertop, break of pieces of dough ( a little bigger than a golf ball when rolled into a ball) and roll into thin ropes.
Step 3
If you're using skewers like at Pizza Factory, roll the ropes about 1 1/2 times the length of your skewers. Twist the rope around the skewer.
Step 4
Place on a greased cookie sheet and let rise for about 30 minutes, or until the breadsticks double in size. Repeat till all dough is used.
Step 5
While they are baking, combine glaze ingredients so the flavors will blend.
Step 6
Bake twists at 375 for about 12 minutes if you're using skewers, and 14 minutes if you are not, and are using the twisting method.
Step 7
Sprinkle fresh parmesan cheese on top, too, and let that melt before serve. Or you can add add canned parmesan cheese to the glaze, which adds even more flavor.
Questions:
By
nummies

---
---
Related video
Related recipes
Recipes