Tiganites: Greek Pancakes
Tiganites: Greek Pancakes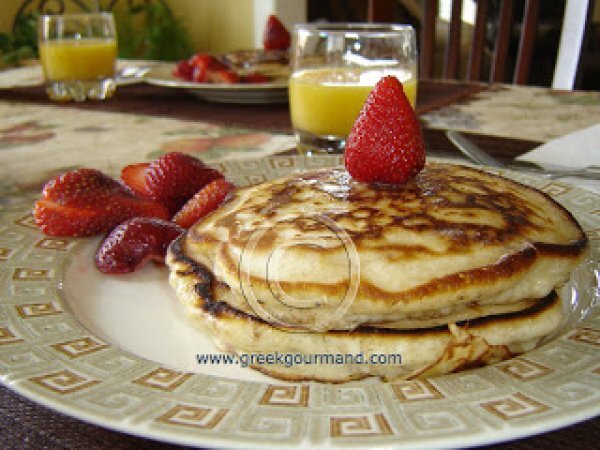 This is one of the famous traditional Greek of Pancakes, try and taste the feeling of those old.
Ingredients
1 cup (250 ml.) all purpose flour
---
---
---
1 tablespoon (15 ml.) Greek extra virgin
olive oil
(or vegetable oil)
---
1 teaspoon (5 ml.) baking powder (optional)
---
---
---
Greek blossom honey or maple syrup for topping
---
Some chopped fresh fruits and/or walnuts (optional)
Preparation
Combine and sift the flour, baking powder (optional) and salt into a mixing bowl.
Beat the egg in a separate mixing bowl then add the olive oil and milk and mix together well, then add mixture to the bowl with the flour and whisk to combine the wet and dry ingredients to form a smooth batter. If you prefer a thinner pancake, add a little more milk to the batter.
Heat a medium sized frying pan and add a tablespoonful of butter to melt over a medium heat.
Once the butter has melted, use a ladle and drop a dollop of the batter into the centre of the pan such that it will spread out into a disc as it cooks.
When the edges of the disc start to dry and bubbles appear, flip the pancake to cook the other side and cook till done. Serve hot with some butter and honey drizzled overtop.
You can also add some chopped walnuts and a sprinkle of cinnamon.
Nutritional informations:
for 1 serving
/
for 100 g
Nutrition:
Nutritional information for 1 serving (85g)
Carbo:

27.5g

Total fat:

6.4g

Saturated fat:

2.4g

Proteins:

6.5g

Fibers:

1.5g

Sugar:

4g

ProPoints:

5

SmartPoints:

7
Questions:
Related recipes
Recipes