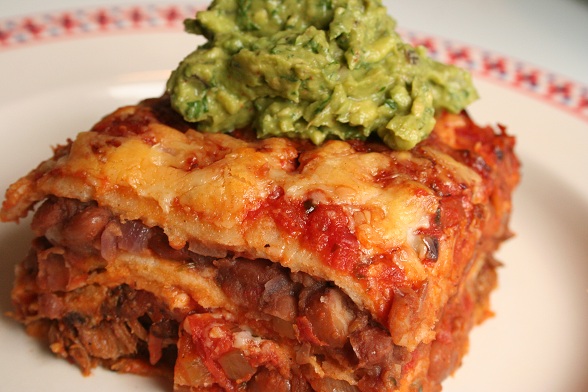 When paging through Rick Bayless's Mexican Kitchen, we found something which we initially thought was a bit odd but strangely interesting – a Mexican version of lasagne, layered up with tortillas instead of lasagne sheets. We became determined to try it and thought that it would be a good way to use up the left over chilli-roasted pork that we had in the freezer. We took the general concept and made a recipe up around it rather than following an actual recipe.
We had bought the ingredients for making tortillas and were half thinking about making it today, weighing it up against getting out and doing some healthy outdoor pursuits. However, the weather in the morning looked rather grey, dreary and blustery so we figured that outdoor pursuits were out of the question. It did brighten up later, but by that time we were already elbow-deep in tortillas, pork and beans.
So we defrosted the pork. We also cooked some pinto beans to make typical Mexican frijoles (recipe here) and some slightly Mexicanised tomato sauce, but we were a little lazy with this one and didn't go to great lengths to toast, soak and liquidise chillies, etc. Then we made up some home made tortillas.
When these were all done, we layered it up with a layer of tortillas as a base, followed by the pork, some of the tomato sauce and a sprinkling of grated cheese, then another layer of tortillas and then the beans and some more tomato sauce. Topped off with a final layer of tortillas and some more sauce and a generous sprinkling of grated cheese. Baked in the oven for 30 minutes and it came out smelling really good.
The pork was really good, but we knew that already because we had had it before and the beans were good too, but then we knew that they would be beause that recipe makes nice beans. So it was tasty, but not necessarily any more tasty than if we had just used the pork and the beans and wrapped them up in tortillas as usual and saved ourselves a lot of work. One thing that you don't get when doing that though it the toasted cheesy crust on top, which was really good. It seems that this sort of dish does have potential though – maybe next time we should follow a recipe properly rather than just making it up as we go along.
PS We added a dash of guacamole on top of it since we love guacamole so much…