Vegan "sausage" and red pepper puff pastry heart tarts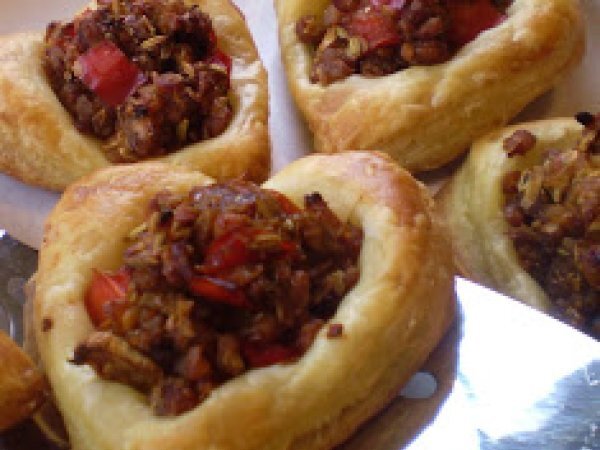 Recipe type:

Appetizer

Number of serving:

15 servings

Preparation:

15 min

Cook time:

20 min

Ready in:

35 min

Difficulty:

Very Easy
Ingredients
Vegan Pastry:
- 1 box Pepperidge Farm Puff Pastry Sheets
- Vegan "Sausage" and Red Pepper Filling:
- 1 tablespoon olive oil
- 1/2 of a large red bell
pepper
, finely diced
- 3 large
cloves
garlic, sliced
- 8 ounces tempeh
- 1 tablespoon soy sauce
- 1 tablespoon Amino Acids
- 2 tablespoons maple syrup
- 1 tablespoon
fennel
seeds
- 1 teaspoon ground coriander
- 1 pinch
red pepper
flakes
- 1 "squirt" of
lemon
juice
- 1 "squirt" of Liquid Smoke
- 1 tablespoon whole wheat flour
- 4 tablespoons unsweetened soy milk
- coarse sea or kosher salt to taste
- freshly ground black pepper to taste
Preparation
Step 1
Preheat oven to 400 degrees. In a large cast iron skillet over medium-high, heat olive oil to shimmering.
Step 2
Add bell pepper and saute for about a minute or two until it starts to soften. Add garlic and saute another couple of minutes or until garlic softens and just barely begins to develop golden color.
Step 3
Crumble tempeh into skillet, stir well and add next 8 ingredients, sauteing and stirring until tempeh is uniform in color, fennel seeds release fragrance, and mixture is warmed through.
Step 4
Sprinkle with flour and immediately add milk, cooking and stirring until flour no longer tastes raw and mixture begins to bind together. Season with salt and pepper, stir well, and remove from heat.
Step 5
Cut puff pastry into 20 hearts, 10 per sheet and place on a lightly oiled or Silpat-lined baking sheet. Using a spoon or small scoop, place approximately 2 teaspoons of filling into the center of each heart.
Step 6
Bake on the center oven rack for approximately 16-17 minutes. Remove from oven and serve hot, warm or room temperature.
Questions:
---
---
Related video
Related recipes
Recipes
Related articles
Quintessentially British traditional and tasty fish and chips