BARBIE Cake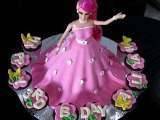 This is my first "BARBIE Cake"...the result of baking course 2 weeks before my little one bday. I made it especially for her 3rd bday. Special cake for special day. She was very happy afterall watching me made a new creation of the cake. She is not the one who was so exited but also her two other sisters...hehehhehehe . They requested the same cake for their future bday.....surely do baby...I will....
Actually this Barbie Cake is not complicated as we thought. Half body of the barbie is cutted and the other half down is Barbie frock which is made from steam brownies with special baking pan covered by fondant/ gum paste. Then we could design the gown of the Barbie whatever we like.
And also this barbie cake is surrounding by some cupcakes that we can put some numbers or name of the bday's girl which are made from the same ingredients of the frock.

Giving the best for my love ones is the most precious things in my life...
Happy bday love....may all happiness be with u....
Look at this picture..!!! how lovely.....I wish I had this barbie cake when I was a little...;-(

You may like
Recipes
Related articles