Best Raw Vegan Pizza Ebook by May Salem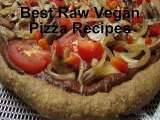 I love pizza! I am a pizza addict, I admit. Love it cooked with Daiya cheese, love it cooked with no cheese and just veggies.. I had not braved the raw pizza yet.. Until I saw pictures of May's raw vegan pizzas. Doesn't the picture above look amazing?? I have to say that I haven't mastered the art of making raw pizza but after trying the recipes in May's ebook I am happy to say that I will be trying it again!
May is a amazing artist. Check out her website Native Sol . To purchase the ebook click on the picture of the amazing picture above..
May's book has 2 crusts- a gluten free version made with buckwheat (I made this one and loved it, I will be making it again for sure!) and a kamut version. She has recipes for a cheez sauce, pesto sauce and a tomato sauce. I didn't have the ingredients to make her sauce so I created my own which we loved. The ebook also has a recipe for marinated mushrooms and several different variations for topping your pizzas.
She even has a recipe for raw vegan pepperoni. I made these but they were not done in time to top the pizzas with. When they were done they were devoured by my husband and kids. I have been asked to make them again! They were spicy and full of flavor.
My kids devoured the version above with just olives. The hubby and I loved the one with more veggies on it. The crust is amazing and would make great bread for sandwiches. If you love pizza you will love her recipes! Check out the ebook HERE or click on the pizza at the top of the page.
You may like
Recipes