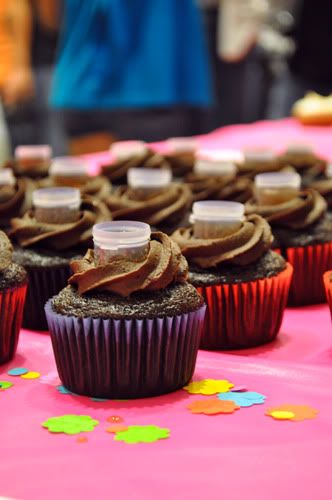 Well, Cupcake Camp Dallas is over. I had an amazing time and met so many fun people. It was definitely a success (with over 4,000 cupcakes donated!) and the money raised benefits a wonderful organization. The LEAP Foundation is comprised of volunteer plastic surgeons, urologists, eye surgeons, anesthesiologists, orthodontists, nurses and support staff. Dedicating time, expertise and often their own resources, these volunteers endeavor to bring free surgical care to children and adults born with deformities.
I based these off the Yippee Ki-Yay Cherry Cupcakes that I entered into 'Iron Cupcake: Earth' two years ago. But with this batch? I couldn't get the Dr Pepper in the shot glasses fast enough… they were literally gone within 20 minutes of setting them out. And even though I didn't win a trophy, there were so many great things said about my Dr Pepper Shot cupcakes! There were the people who had waited for mine to make their appearance and then the readers who stalked the blog before the event began (Hidy, y'all!).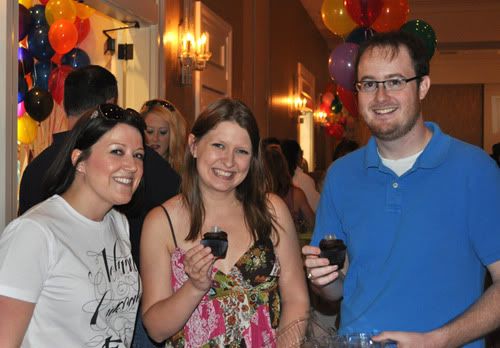 Good friends E & D even drove down to hang out and taste cupcakes with me!
Truth be told, I'm a little glad it's over. All week, I was stressed about the type of cake I'd use, how many to make, what the frosting should look like, how I'd transport them, if they'd make the hour-long trip okay, etc. I seriously slept no more than two hours on Friday night and I bruised my right hand with all the stirring, folding and cutting that I did… my little fingers are still swollen. In the end, though, it was worth it and I'll definitely be back next year. I had a lot of fun and can't wait for 2012! Big 'ol thanks to Momma G for all the support and help she gave me – you're my rock, G!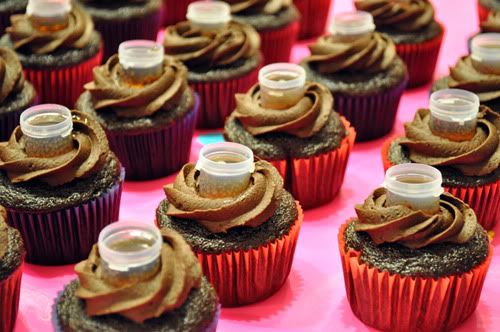 Dr Pepper Shot Cupcakes
Source: My Baking Heart
Yields: 12 cupcakes
1-1/2 c flour
3 tbsp unsweetened cocoa powder
1/2 tsp salt
1 c sugar
1 tsp baking soda
2 tsp vanilla extract
1 tsp white vinegar
6 tbsp vegetable oil
1 c Dr Pepper + extra for shots
Small plastic shot glasses
Preheat oven to 350 degrees F.
Place dry ingredients in a bowl and whisk thoroughly. Make 3 holes in the mixture. Pour the vanilla into one hole, the vinegar in another and the oil in the last hole. Pour the Dr Pepper over the top and mix thoroughly.
Fill the cupcake wrappers 3/4 full and bake for 20 minutes. Remove pan from oven and let cool on a rack for 10 minutes. Remove cupcakes from pan and place on same rack to finish cooling completely. Frost with Dark Chocolate frosting, then add a small shot glass to the center. Take an eyedropper and add just enough Dr Pepper to fill the shot glass.
Like this… see??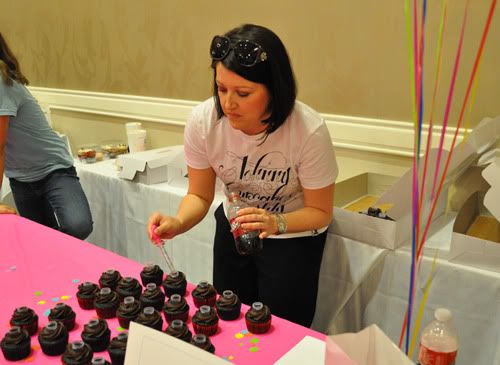 Dark Chocolate Frosting
Source: My Baking Heart
Yields: approximately 3 cups
6 tbsp butter
2 tsp vanilla extract
3 c powdered sugar
3/4 c dark cocoa powder
1/3 c milk
Cream butter and vanilla. In a separate bowl, combine powdered sugar and cocoa powder. Add dry ingredients to creamed mixture. Slowly add just enough milk (you might not need to add it all) until frosting reaches desired consistency, then beat until creamy.