Easy lemon tart
Easy lemon tart
By
peasepudding

This is an easy recipe since you do not have to make a curd, just whisk all the ingredients together and our into the flan dish to bake.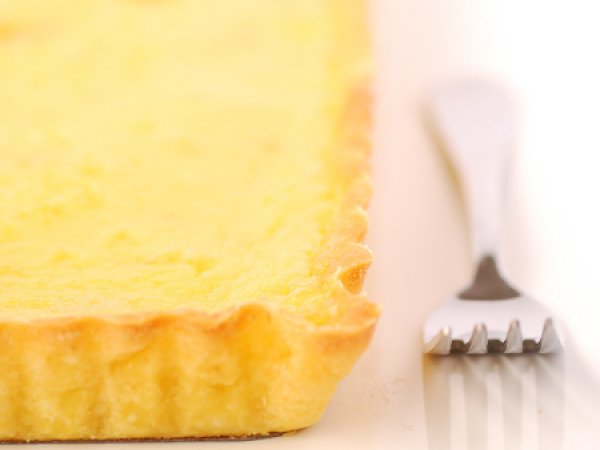 Recipe type:

Dessert

Number of serving:

7 servings

Preparation:

15 min

Cook time:

45 min

Ready in:

1 hour

Difficulty:

Very Easy
Ingredients
- 110 g Butter
- 180 g flour
- 60 g icing sugar
-1 egg
- zest and juice of 4
lemons
- 200 g castor sugar
- 250 ml cream
-4 eggs
Preparation
Step 1
Preheat oven to 180 degrees centigrade. Grease and flour a loose bottom, 22-24cm, flan tin. Place the flour, butter and sugar in a bowl. Work the ingredients together until the mixture looks like breadcrumbs.
Step 2
Add the egg and bring dough together. Rest dough in fridge for an hour before rolling out. Roll out pastry to fit bottom and sides of tin, prick bottom of pastry case.
Step 3
Place a piece of greaseproof paper over the bottom and sides of the pastry shell and fill the case with dry beans, rice or lentils.
Step 4
Place the tart shell in the oven with the dried beans and bake blind the shell for 15 minutes. Remove from the oven and remove the greaseproof paper and beans and return the pastry to the oven.
Step 5
Bake for a further 10 minutes. The first baking with the beans is to prevent the pastry side slipping down with no filling in the case. The second baking is to crisp the shell.
Step 6
Whisk the eggs and sugar until combined. Add the cream and lemon juice and whisk again. Strain the mixture through as sieve and then add the zest of lemon to the mixture and stir.
Step 7
Pull the tart out of the oven slightly and pour the mixture into the tart case till it reaches the top. Push the tart back in gentle and bake for a further 30-35 minutes or until set but still wobbly. Allow to cool and serve with cream and berries or by it self.
Questions:
By
peasepudding

---
---
Related video
Related recipes
Recipes