Easy blueberry kiwi lemonade tart recipe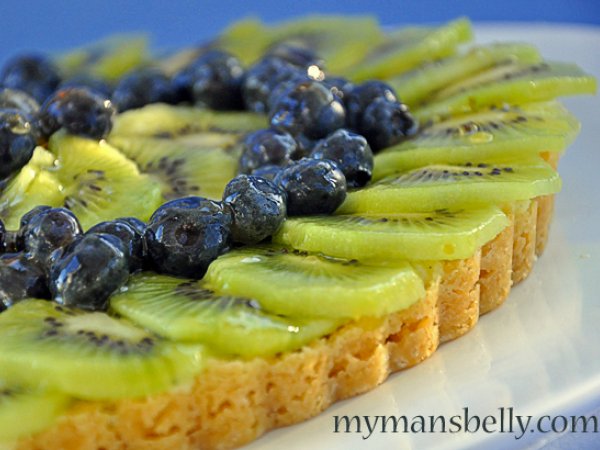 Preparation
Lemonade Crust:
Preheat oven to 350 degrees Farenheit.
Add the cookies to your food processor and pulse until finely ground crumbs.
Add melted butter and sugar to processor. Process until all of the ingredients come together and look like wet sand.
Press into an 8″ tart pan with removable bottom. Using your hands and fingers evenly spread the mixture on the bottom and up the sides of the pan.
You can also use a springform pan or solid pie pan for this. It's much easier to slice and serve if you use a pan with a removable bottom.
Put the tart pan on a cookie sheet and bake for 10 – 15 minutes.
The crust will be a light brown and somewhat firm to the touch when done.
Remove from oven and set aside to cool.
Pastry Cream.
Dissolve cornstarch in 1/8 cup of the milk. Combine remaining milk with sugar and bring to a boil.
Whisk eggs into the cornstarch mixture. Whisk 1/3 of the boiling milk mixture into the egg and cornstarch mixture.
Once thoroughly mixed pour the egg mixture into the boiling milk mixture and continue to whisk for about one more minute.
Remove from heat and whisk in the butter and vanilla.
Transfer the mixture to another container and cover the surface with a layer of plastic wrap. Place into refrigerator to chill.
Questions:
Related recipes
Recipes
Related articles