Non-baked oreo cheesecake
By
pengskitchen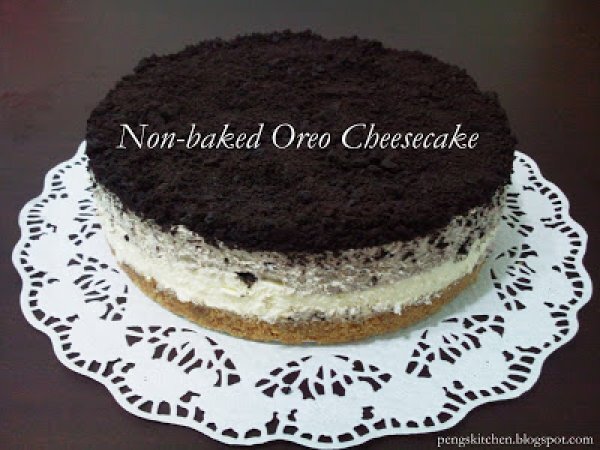 Recipe type:

Dessert

Number of serving:

4 servings

Preparation:

20 min

Cook time:

30 min

Ready in:

50 min

Difficulty:

Very Easy
Ingredients
- 120 g digestive biscuits
- 50 g melted butter
- 300 ml whipping cream
- 1 tablespoon gelatin powder
- 3 tablespoon boiling water
- 10 ml
lemon
juice
- 250 g cream
cheese
, soften at room temperature
- 50 g icing
sugar
, sifted
- 45 ml fresh milk
- 1 tbsp rum
- 10 pieces of
oreo
cookies
- extra finely chopped oreo cookies for decorating
Preparation
Step 1
Mix biscuit crumbs & melted butter together and press firmly with the help of a spoon onto the base of a 7" loosebased cake tin.
Step 2
Chill for 30 minutes. Beat whipping cream with electric mixer on low speed until 70% stiff or until mousse-like.
Step 3
Do not over beat. Keep in the fridge.Place gelatin powder, lemon juice & boiling water in a bowl. Heat a pot filled with water until just simmering and place the bowl inside the pot.
Step 4
Dissolve gelatin, lemon juice & boiling water in the bowl. Keep warm. With an electric mixer, beat cream cheese, icing sugar, milk and rum essence until smooth & creamy. Blend in gelatin solution.
Step 5
Fold in whipping cream with a spatula. Pour half of the cheese mixture into the cake pan. Spread evenly. Chill for 15mins. With balance cheese mixture in mixing bowl, stir in coarsely chopped oreo cookies. Mix well.
Step 6
Pour the mixture over the plain cheese layer. Chill till set. Remove from pan and decorate with finely chopped oreo cookies.
Questions:
By
pengskitchen

---
---
Related video
Related recipes
Recipes