Raspberry tiramisu cake log
Raspberry tiramisu cake log
Make your own cake log this year !
Ingredients
---
---
250 gr mascarpone
---
---
---
2 Tbsp cream
---
1 gelatin sheet
---
1 Tbsp raspberry coulis
---
4 Tbsp water
---
30 lady fingers
---
180 gr raspberry coulis
---
2 gelatin sheets
Materials
1 cake log mold
---
Preparation
Grilled almonds : put the almonds on a pan and grill them until brown. Leave to cool down.

Mascarpone cream :
Put the gelatin sheet to soak into cold water.
In a bowl, put the mascarpone, the sugar and the cold whipping cream, and whisk until you get a firm cream.

Heat the 2 Tbsp of cream, and melt the soaked gelatin sheet in it. Then, add this mix to the mascarpone cream and mix well. Put in the fridge.

Line your cake mold with plastic foil. Cover the mold bottom with cream. Dip quickly a lady finger into the raspberry coulis and water mix, and cover the cream with the biscuits.

Then, cover them withcream and sprinkle some grilled almonds. Put some raspberries on top and cover with cream.

Make a second layer of lady fingers and then an other layer of cream. Cover with raspberries and sprinkle some grilled almonds.

Cover with cream again and then cover with lady fingers. Wrap the cake log in plastic foil and put it in the fridge for at least 3 hours.

The glaze : put the gelatin sheets to soak into cold water. Put the raspberry coulis 1 min in microwave then add the soaked gelatin and stir well.

Unmold your cake log on a grid on top of a large dish. Carefully remove the plastic wrap.

Pour the coulis on top of the cake log to cover it completely. Re use the coulis in the dish to cover it again. Repeat the operation to cover it well.

Put the cake log on its serving plate and put it in the frige for at least 2 hours.

You can decorate the cake log with some fresh raspberries and grilled almonds.
Photos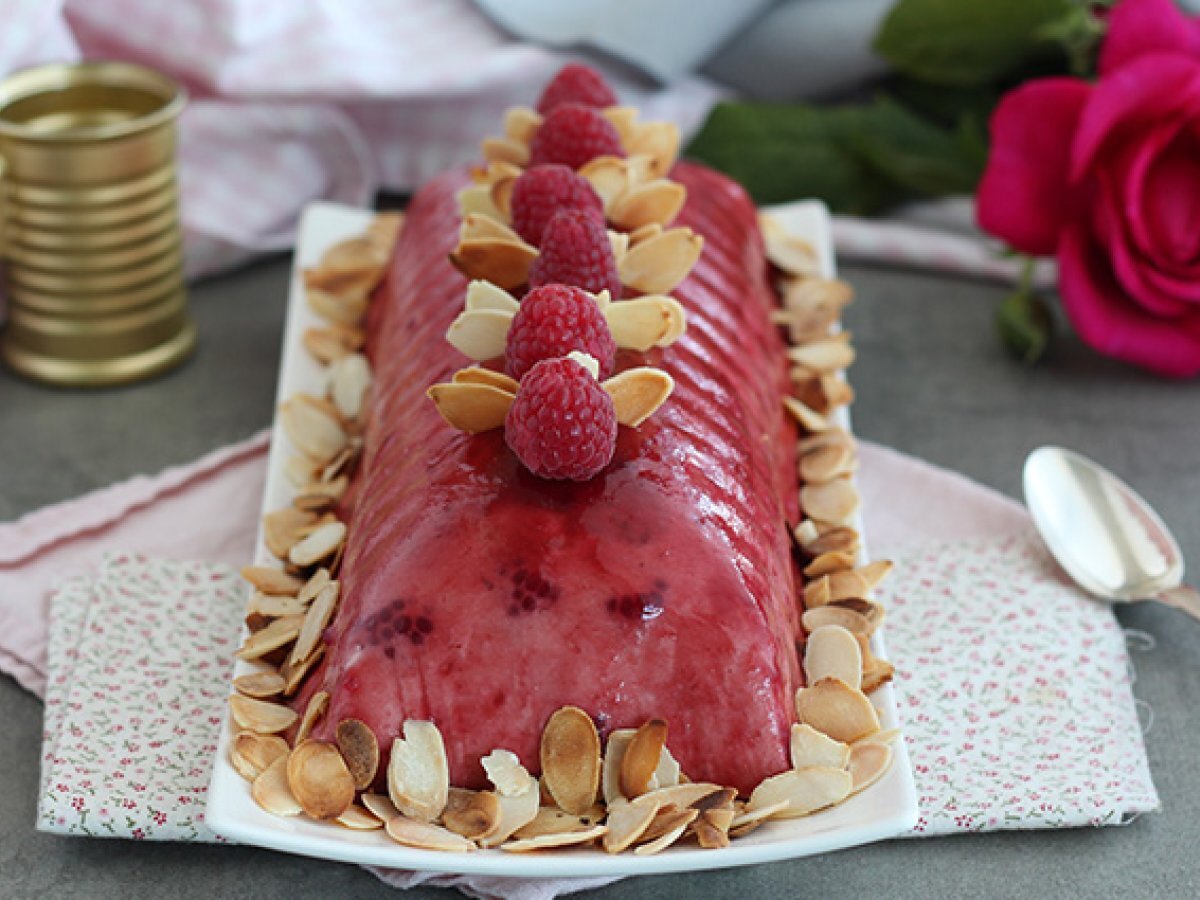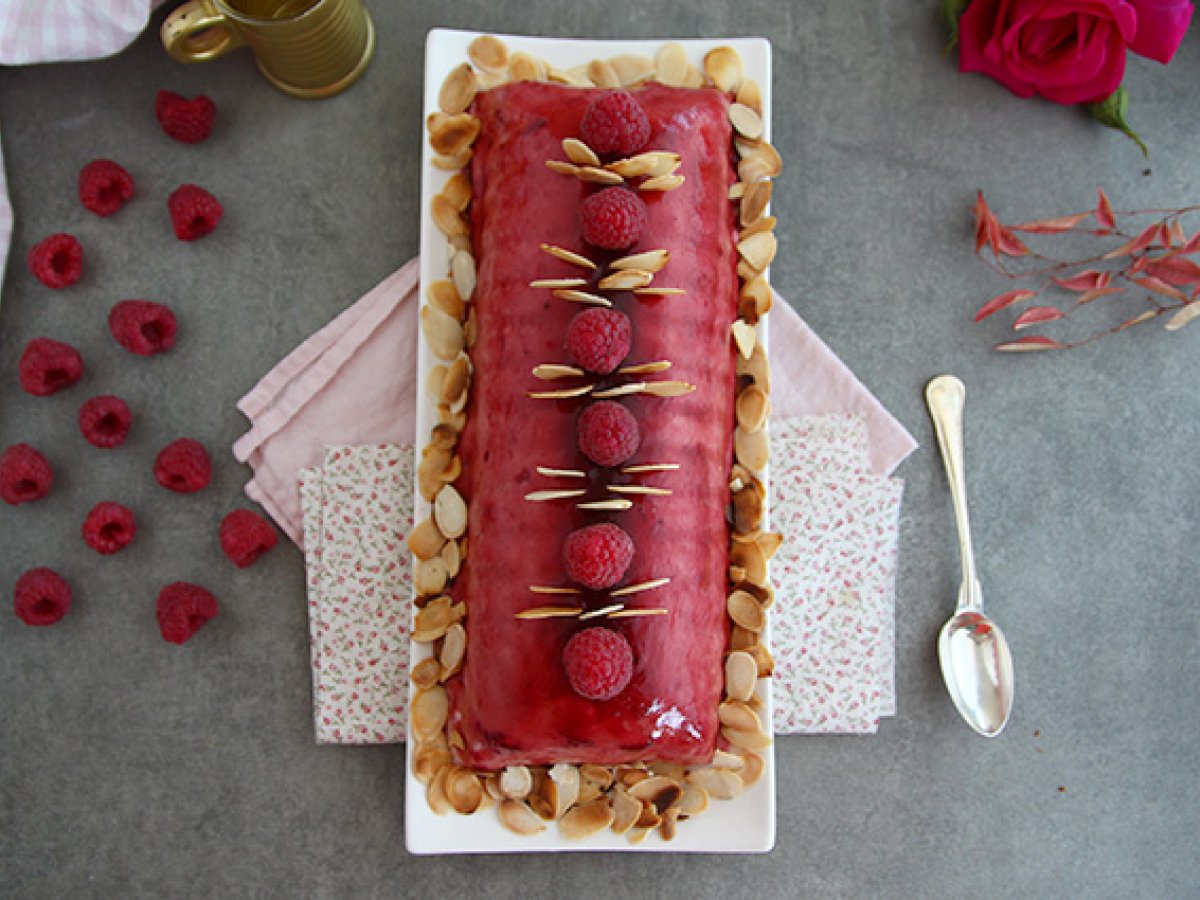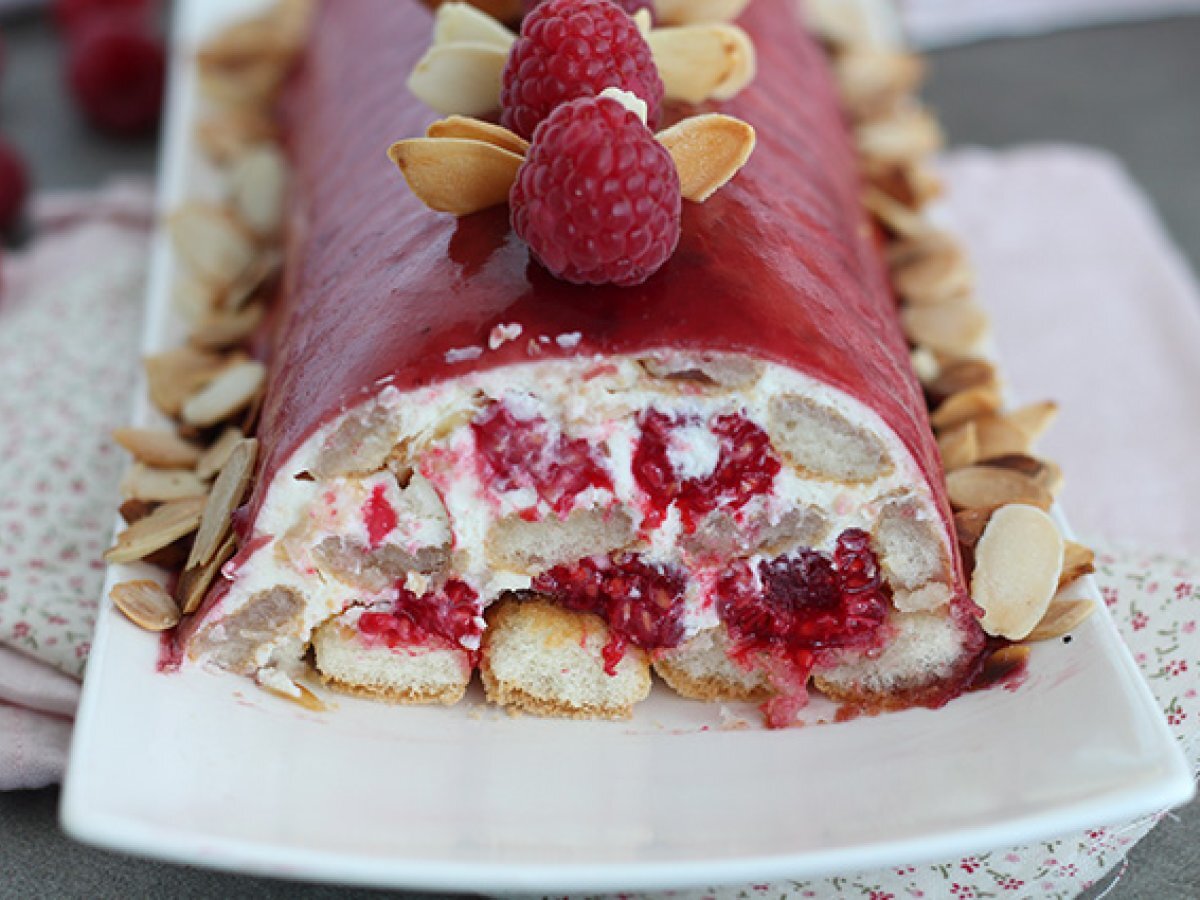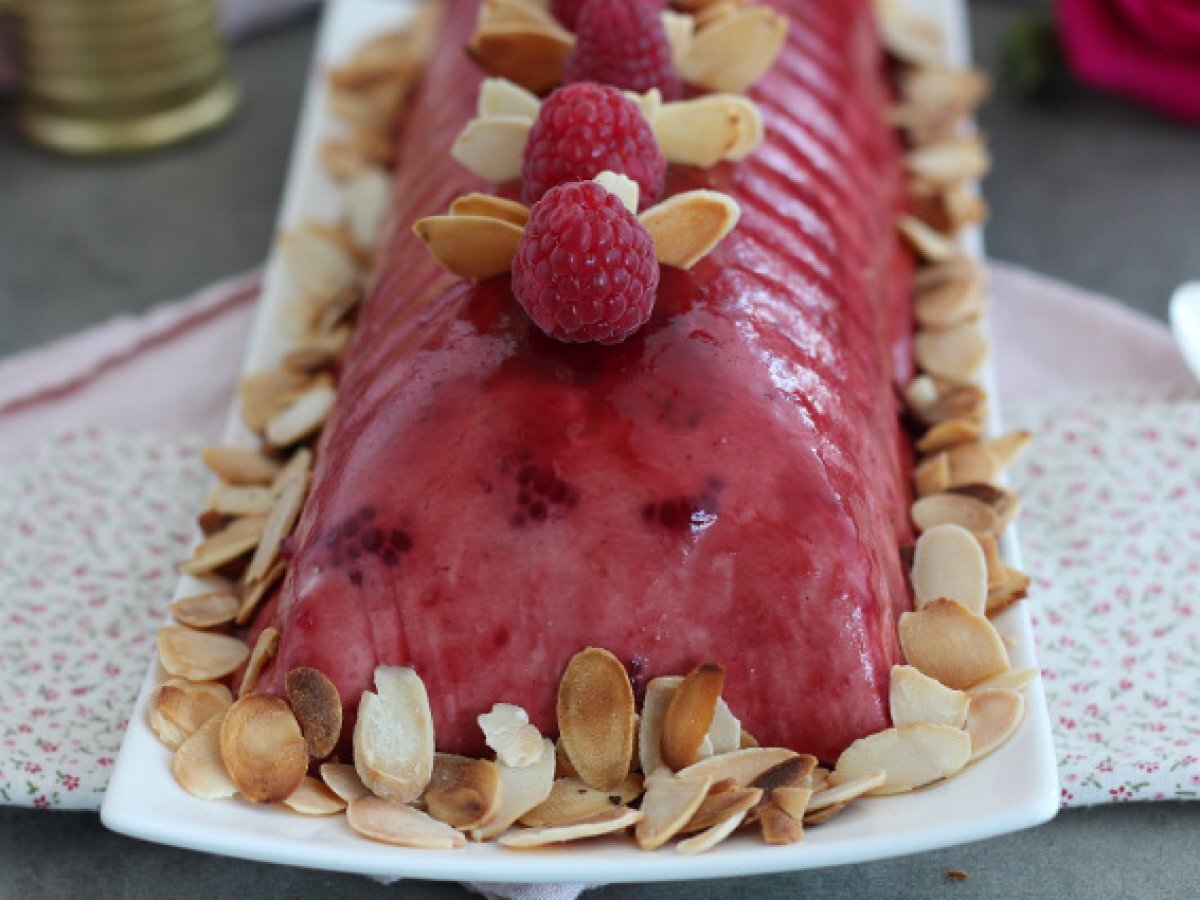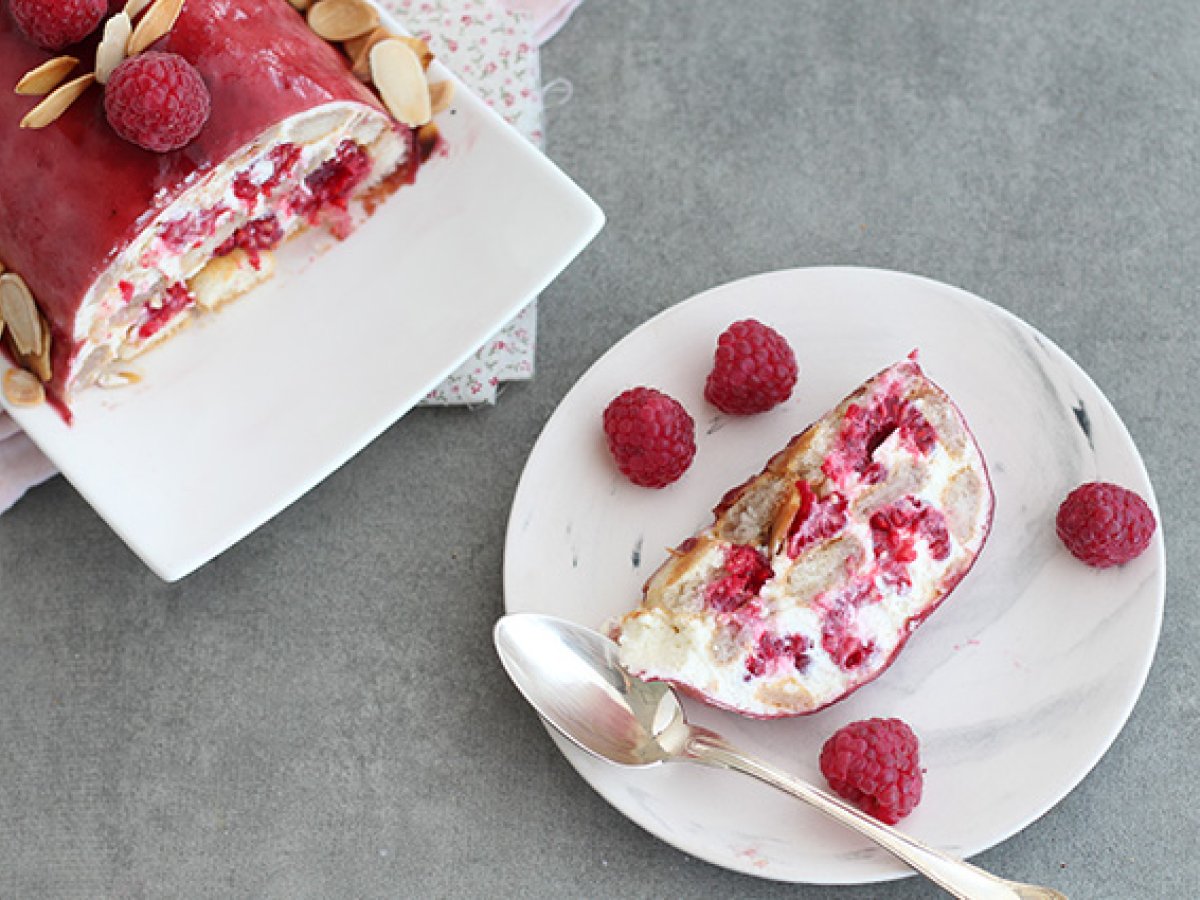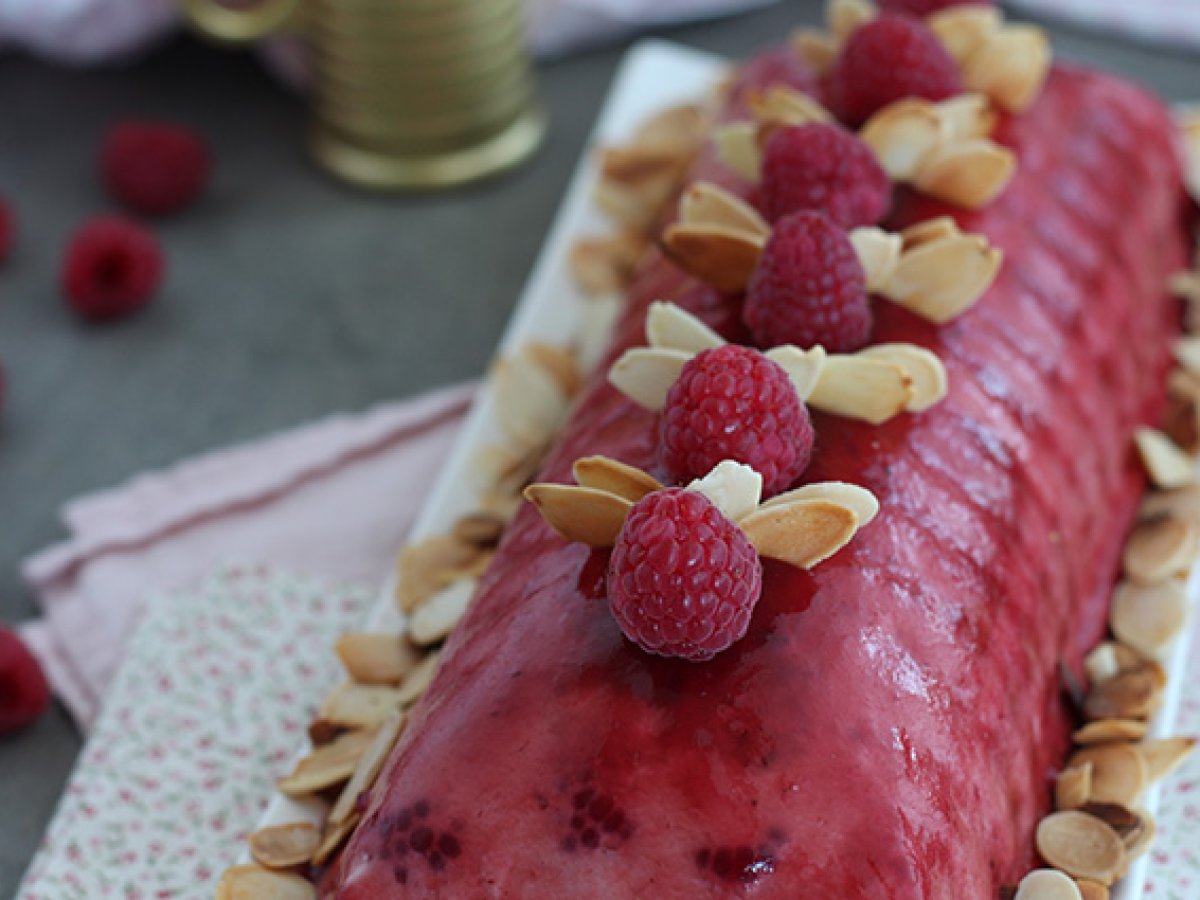 Questions:
Related recipes
Recipes