Raspberry mousse
Raspberry mousse
or
A refreshing dessert, light and ideal to finish a meal. A pretty nice recipe to use ripe raspberries, that are not fresh enough to bake a tart.
Preparation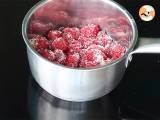 Step 1
Put the whipping cream in the fridge. Put the gelatin sheets in some cold water to soak. In a pot, put the raspberries and the sugar, then mix. Leave at medium heat for 5 minutes, stirring once in a while.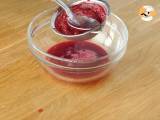 Step 2
Strain the raspberries to take out the seeds and the pulp. Add the gelatin sheets to the hot juice, and mix well.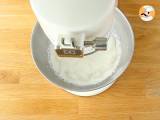 Step 3
Whip the cream.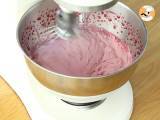 Step 4
Add the raspberry sauce (not too hot). Stop whisking and stir with a spatula to mix well.
Step 5
Serve in dishes, and put in the fridge for 4 hours at least.
Step 6
There you are, your raspberry mousse is ready!
---
---
Related recipes
Recipes