Raspberry swirl cheesecake cupcakes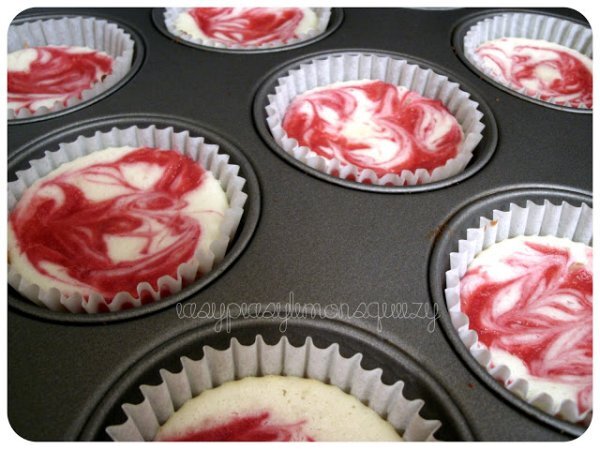 Preparation
Preheat oven to 325°F. Line cupcake pan with liners.
In a food processor, process graham crackers until crumbly. Switch crumbs into a bowl, and mix in butter and sugar and stir with a fork until the crumbs are moistened.
Fill each cupcake liner with 1 tablespoon of crumbs. Use a small drinking glass to press the crumbs down. Bake for 5 minutes or until set. Set aside to cool.
Also in your food processor puree raspberries and sugar. Strain puree into a bowl using a strainer to collect the seeds. Set aside.
In a large mixing bowl, blend cream cheese until fluffy. Add sugar and blend again until well mixed. Add vanilla and mix again. Add each egg one at a time, mixing in between each addition.
Pour 3 tablespoons of cheesecake mixture onto the graham cracker crusts. Once each one has been filled, take a 1/2 teaspoon of raspberry puree and dot it on the top. Take a tooth pick and swirl it around.
Pop them in the oven and bake for about 22 minutes. Remove from oven and let cool to room temperature, then refrigerate for at least 4 hours before serving.
Questions:
Related recipes
Recipes