Savoury yam cake (wo tow ko)
Savoury yam cake (wo tow ko)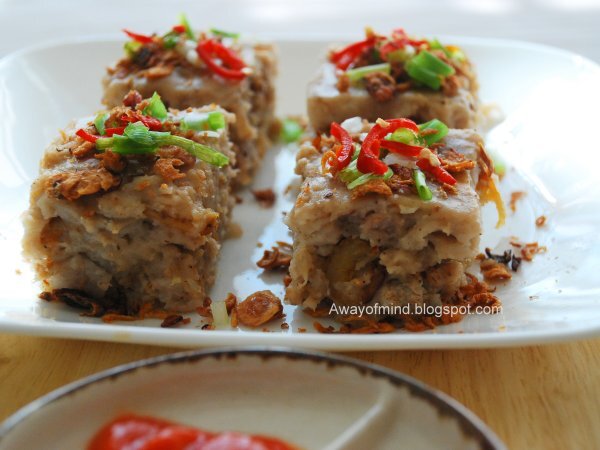 yam, rice flour, tapioca flour, dried prawns, etc.
Ingredients
Recipe adapted from Malaysian Hawker Favourites Cookbook by Rohani Jelani with minor changes
---
400g yam, peeled and cut into cube
---
4 shallots, diced
---
1 tbsp dried
prawns
, soaked (used 2 tbsp)
---
---
1/2 tsp five spice powder (used 1.5 tsp)
---
a dash of white pepper
---
---
3 tbsp tapioca starch or corn starch
---
1 tsp salt
---
550ml water
---
1/4 tsp alkali water (omitted)
---
3 tbsp crispy fried shallots
---
3 tbsp thinly sliced spring
onion
---
sweet chili sauce
Preparation
Step:
1. Steam the yam cubes for 20 mins. Set aside.
2. Heat the oil in a wok, stir fry the shallots until just browned. Add dried prawns, stir fry for 2 to 3 mins, then add the steamed yam cubes and stir fry for another 2 mins. Add salt, five spice powder and pepper, mix and remove from heat.
3. Combine rice flour, tapioca flour, salt and water in a pan. Mix until mixture is smooth and free of lumps. Heat the mixture over low heat, stirring continuously with a wooden spoon until it thickens. Remove pan from heat, add yam cubes and mix well.
4. Transfer the yam cake mixture to a oiled steaming tray. Cover and steam for 25 30 mins. Allow to cool completely before cutting.
5. Garnish before serving.
Questions:
Related recipes
Recipes
Related articles