Strawberry 'n cinnamon ice cream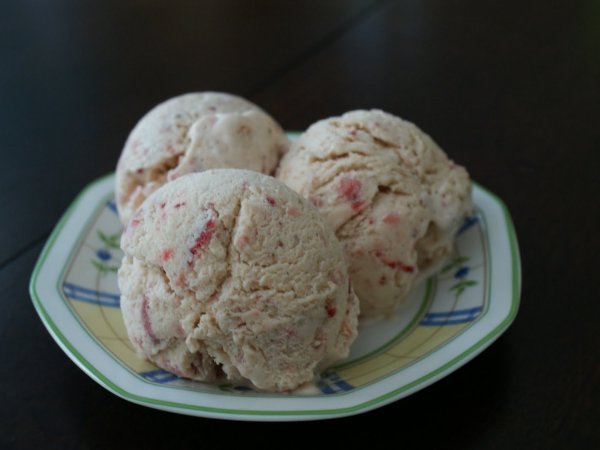 Preparation
Place milk and cream in a medium saucepan. Take the vanilla bean pod, cut in half lengthwise and scrape the seeds into the saucepan, then add the bean pod. Heat over medium heat to a simmer. Remove from heat, cover, and let steep for 10-15 minutes.

In a medium mixing bowl, whisk the egg yolks, sugar, and salt until pale and thick. Add the contents of the saucepan gradually, whisking constantly (a technique called tempering), then return the mixture to the saucepan and heat over medium heat. Cook, stirring constantly with a wooden spoon until it visibly thickens and coats the back of the spoon. Do not let it boil or it will curdle. Immediately remove from the heat, whisking for 1 to 2 minutes to cool the custard quickly. Cool for 15 minutes, then remove the vanilla bean pod and whisk in the cream cheese. Cover the custard mixture and refrigerate until well chilled, at least 3 hours or overnight. (For a quicker process put the custard into the freezer, covered in plastic wrap for one hour.)

Place approximately half of the strawberries in the bowl of a food processor fitted with a metal blade. Pulse until roughly chopped. Remove from food processor and set aside. Add the remaining strawberries and blend to a thin liquid. Whisk strawberry liquid and cinnamon into chilled custard. Gently fold in chopped strawberries.

Freeze in an ice-cream maker according to the manufacturer?s directions. Transfer the ice cream to a freezer container and freeze for at least 30 minutes to allow it to solidify before serving.
Questions:
You may like
Recipes