Adobong Batangas (Pork, Beef and Liver Adobo - Batangas Style)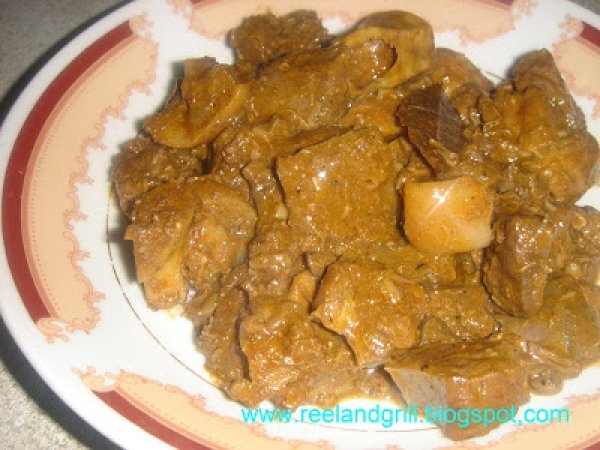 Preparation
In a large thick pan or wok, heat the oil and fry half of the garlic. Add in beef and sauté. Cover and wait for the meat to render its own liquid.
Give it a gentle stir and simmer on low heat until the liquid is slightly reduced. Add the cracked and whole pepper corns, salt and vinegar and continue simmering on low heat for about 20 to 30 minutes or until the beef is half tender
Add broth or hot water as necessary, ½ to 1 cup at a time.
Add in pork, beef liver, the remaining garlic and bay leaves.
Continue cooking until the pork and liver render their liquid. Continue simmering on low heat with occasional stirring.
Steep the annatto seeds in ½ cup hot water to extract its colour. Discard the seeds and add in the annatto water into the pan.
Continue simmering until all the meats are fork tender. Adjust the salt and pepper seasonings. As usual add broth or hot water as necessary.
Turn the heat off. Separate the slightly thick liquid from the meat. Scoop out the oil that floats on the surface if you like. Others love this sinful but flavourful oil in their adobo.
Take out some of the liver pieces and pound or mash them until separated to minute granules. Set aside.
In the same pan, heat about 2 tablespoons of vegetable oil. Stir-fry the cooked meat with all the garlic bits and pieces.
Stir-fry until the meat sizzles and releases an aromatic smell. Return the liquid to the pan and continue simmering.
Scrape all the meat bits sticking on the pan surface. Add in mashed liver and simmer for a minute more, until the sauce becomes rich and a little oily.
Questions:
You may like
Recipes