Amazing leeks au gratin (the greek way)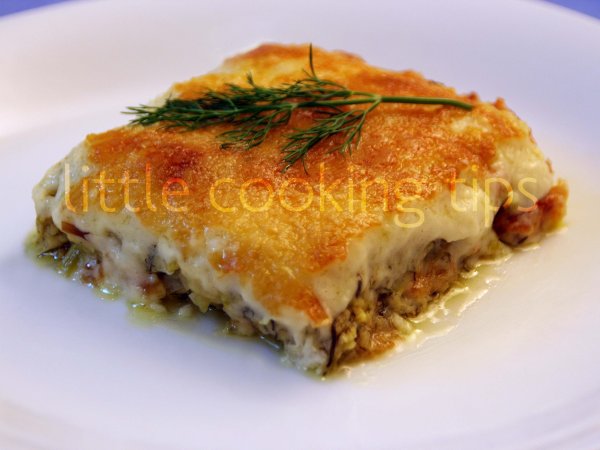 Preparation
We put the olive oil in a pot, in medium to high heat. When heated we add the leeks and we saute for 10 minutes until softened. We pour the wine and increase the heat. We cook for another 3-4 minutes until most of the wine is evaporated, and the final result is relatively dry.
In a pyrex or ceramic baking pan we add the leeks and the dill. We stir well and leave it aside for 4-5 minutes to chill. We add the eggs, we stir and add salt and pepper. Be careful with the salt, because of the cheese that will follow.
We add the cheese and stir the mixture very well, until we get an even, uniform result. We leave it aside to prepare the topping.
For the creamy topping
We add the margarine and the flour in a pot in medium to high heat, and stir continuously until we get a thick result. We start adding the milk slowly, and continue to stir. When all the milk is added we put the nutmeg powder and give it a final stir. We remove from heat. The final result should be a creamy and soft.
We put the cream in the pyrex on top of the leeks mixture. We spread it evenly on the surface, and sprinkle the cheese. We put it in the middle rack of the oven, and bake it for 35 minutes at 180 degrees (celsius). Enjoy!
Tips: 1. We mostly use the white part of the leeks, because the green part is kind of bitter.
2. We suggest that the cheese is finely grated, in order to mix better with the rest of the ingredients and to get a better crust.
Questions:
You may like
Recipes