Back with a bhadang- puffed rice chivda
By
khaugiri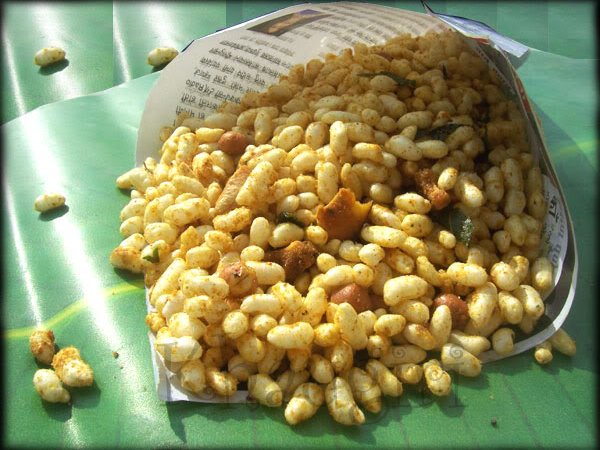 Recipe type:

Main Dish

Number of serving:

5 servings

Preparation:

20 min

Cook time:

30 min

Ready in:

50 min

Difficulty:

Very Easy
Ingredients
- Puffed
rice
250 g
- Metkut - 2 teaspoons
- Red
chilli powder
- 1 tablespoon
-
Turmeric
powder - 1 teaspoon
- Goda
Masala
- 2 teaspoon
- Cumin-
coriander
powder - 1 teaspoon
- Cinnamon powder - 1/4 teaspoon
- Clove powder - 1/4 teaspoon
- Powdered sugar - 1 teaspoon
- Aamchur - 1/2 teaspoon
- Garlic cloves - 5-6
- Peanuts - 1/2 cup
- Cashew nuts - 1/4 cup
- Dry coconut slices - 1/4 cup
- Curry leaves - 8-10
- Oil - 1/4 cup
- Salt to taste
Preparation
Step 1
Take a big kadai and heat oil in it. Add curry leaves and turmeric powder.
Step 2
Then add peanuts, then coconut slices and then cashew nuts. Then add chopped garlic.
Step 3
Fry it till it turn slightly brown. Let the oil get little cool. Now on the other side mix all remaining items.
Step 4
Then mix the tempering and mixture neatly. Let it cool down. You have to store this Bhadang in airtight container like any other chivda.
Step 5
Have tasty Bhadang with nicely chopped onion and fresh coriander.
Questions:
By
khaugiri

---
---
Related video
Related recipes
Recipes
Related articles
Impress your friends with these St Patrick's day recipes!