Beef pot roast (oven braised)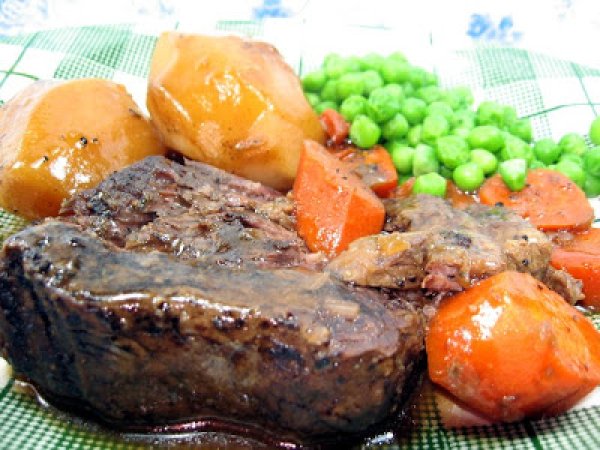 Preparation
Brow the beef well before you put it into the oven (at least 4 minutes per side).
Cut up the chuck roast into large pieces by removing any large white (fat) pieces that run through the meat.
After the meat has nice crusty brown edges, remove it from the pan and set aside. In the same pan, saute a medium (diced) onion (about a cup).
If you used a non-Teflon pan, there should (hopefully) be bits of browned beef stuck to the bottom of the pan. The moisture of the onions, will help de-glaze these little crusty treasures (where a lot of the flavor comes from).
Keep cooking the onions until they turn soft. They should look like this (brown from the meat).
When the onions are soft, add the beef broth and stir to loosen everything in the pan.
Place the meat in a large roasting pan and arrange potatoes and carrots around the meet. Pour the onion-broth mixture over everything (make sure everything gets coated) .
Seal the pan tightly with foil and put into a pre-heated 300F oven for three hours. The meat will be extremely tender and moist and there will be enough broth to make a gravy (or we like the broth just spooned over the meat and potatoes); just make sure you have lots of crusty bread to dip in the broth.
Questions:
Related recipes
Recipes