Black pepper crab
Black pepper crab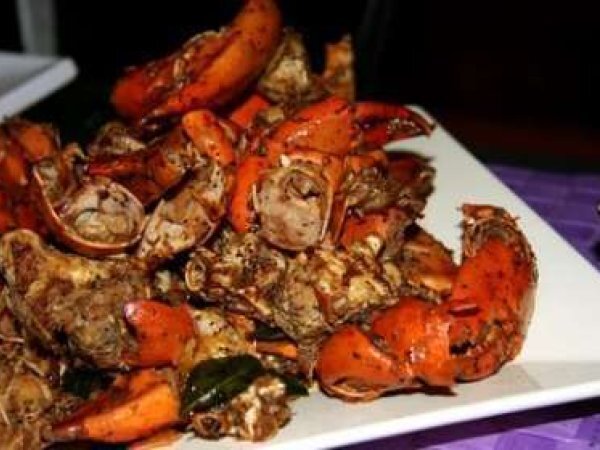 Preparation
Black pepper crab is one of the most in demand crab dishes in Singapore. thus, this will surely not escape being cooked in my own kitchen. and being a crab fanatic, i pushed myself to experiment stirring up this local specialty. at times, i do replace the black peppercorns with white peppercorns, making it simply into a white pepper crab dish. it tastes just as great!


clean the crabs. remove the shell. cut into 4 chunks. crack the claws. drain.
heat half a cup of oil in a wok. melt 280g butter in oil. drizzle a dash of salt.
deep fry the crabs and claws till its shells turn red and the crab meat
a bit golden brown. set aside.

pound the fresh peppercorns using mortar and pestle until coarsely ground.
set aside.

put together the garlic, shallots, young ginger, lemongrass, oyster sauce,
miso paste, chili paste, sugar, dark sweet soya sauce and a quarter cup of
water in a blender. puree until smooth. set aside.

take about 3 tbsp canola oil and butter used for deep-frying the crabs.
pour it in a large wok.
throw in a handful of curry leaves in the hot oil.
fry the curry leaves till fragrant.
pour the puree in the wok.
stir fry for 3 to 5 minutes.
add the coarsely ground black pepper.
stir fry for about 10 seconds.
add in the deep-fried crabs and scallions.
mix thoroughly and continue to stir fry for a minute.
arrange in a large platter. garnish with coriander leaves.

serve right away.
Questions:
You may like
Recipes