Black pepper fish curry
Black pepper fish curry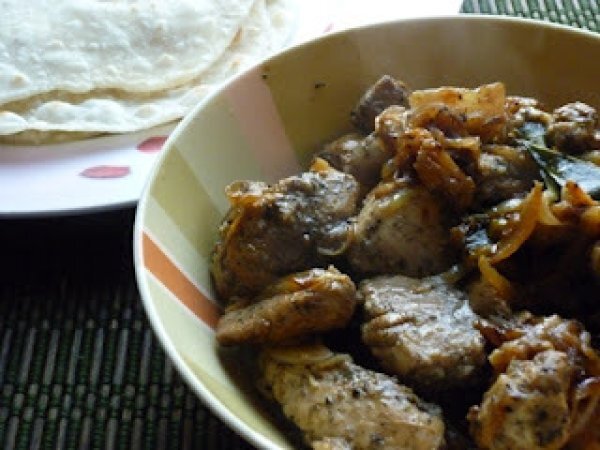 This is a simple but delicious curry that can be made easily. You dont need many ingrediats and tastes fantastic with tuna or other firm fleshed fish. Serve with some crusty bread or flat breads
Ingredients
250g
fish
, cut into about 1/2 -1 inch cubes.
---
---
---
2-3 fingerlength green chillies , slit into two( optional)
---
2 fat
cloves
of garlic, grated or pound to paste
---
1" piece
ginger
, grated or pound to a paste
---
1 tsp freshly ground black pepper
---
Juice of 1/2 a lime or 1/4 lemon.
---
about 1/2 cup water
---
Salt
---
oil
Preparation
Place fish cubes in a bowl or zip lock bag, and add lime juice, garlic, ginger, pepper and a tiny pinch of salt. Leave in the fridge for about 30 minutes to marinate.
Heat oil in a suitable pot or wok, saute your onions and curry leaves till the onions are just turning colour to golden. Add your fish with the marinade and the chillies if using.
Pour in about 1/2 cup water, cover and simmer for about 2 minutes till fish is cooked through.
Remove lid and stir carefully to reduce the sauce till almost all the water evaporates ( you can leave a little gravy if you want). Taste , season with salt. Switch off .
Questions:
Related recipes
Recipes