Homecooked clay pot crab rice
Homecooked clay pot crab rice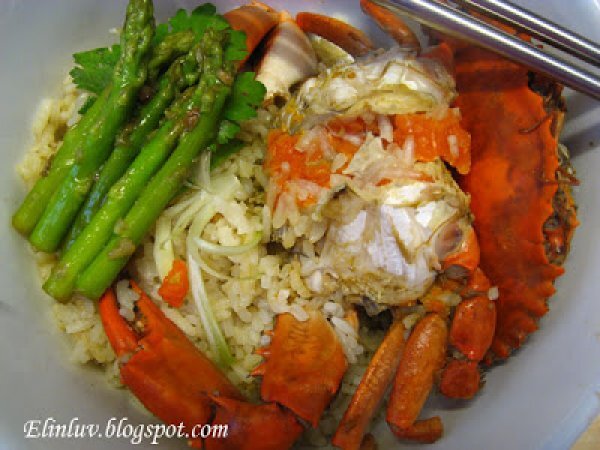 Here a perfect receipt to share itself between family, it is easy and its will like everyone.
Ingredients
1 kg live
crabs
with roes ? cleaned and cut into halves
---
3 tbsp of chinese cooking wine
---
---
---
dash of white pepper
---
3 cups
rice
grains ? washed and drained dry
---
enough water for cooking the rice
---
3 pips of
garlic
- chopped fine
---
3 tbsp of olive oil
---
1 tbsp of butter
---
a pinch of salt
Preparation
Clean the crabs and marinade with the marinade sauce for 1/2 hr or so and leave it aside while preparing the rice. Washed and drained the grains.
Sautee garlic with the olive oil lightly till fragrant but not brown , add in the rice grains and stir till well mixed with the sautéed garlic.
Add in the butter and and stir fry till the butter has melted and incorporated with the rice grains.
Add enough water to cook the rice. Cover lid and cook under low heat for 15 minutes. Add the crabs on top of the half cooked rice. Cover lid again and cooked till the rice and crabs are cooked thoroughly.
Garnished with asparagus and scallions.
Questions:
Related recipes
Recipes