French laundry crab: crab salad with cucumber jelly, grainy mustard vinaigrette and mache
Preparation
Place the chunks of cucumber in a blender and puree. . Line a mesh strainer with a few layers of cheesecloth and place over a bowl. Pour the cucumber puree into the strainer and let sit. You need 1 cup of cucumber juice. Set the juice aside.
Using a mandoline or sharp knife, cut lengthwise slices about 1/8 inch thick from the half cucumber. Cut the slices into narrow strips about 1/8 inch wide and then cut the strips at an angle to make diamonds. You will need about 2 tablespoons of diamonds. Set aside.
Mix the gelatin with the warm water and stir to dissolve. When the gelatine has dissolved, whisk it into 1 cup of cucumber juice. Pour a thin layer of the juice onto each of 4 serving plates. Discard any excess .
Arrange 6 dill sprigs around each plate and some of the cucumber diamonds. Leave the center open as this is where the crab will go. Put the plates in the refrigerator to set for at least one hour.
Before serving, whip the cream in a medium bowl until it forms a ribbon when the whisk is lifted. Whisk in the mustard and salt and pepper to taste. Place the crab in a separate bowl and fold in just enough of the cream mixture to bind the salad.
Toss the greens, radicchio and jicama with a little olive oil and the lemon juice and season to taste with salt and pepper. Fill a 2 to 2 1/2 inch ring mold or cookie cutter with the crab mixture (pack it in so the shape holds) and carefully place over the center of the plate.
Lift the mold off and then top the crab with a bit of the greens and a few extra dill sprigs.
Photos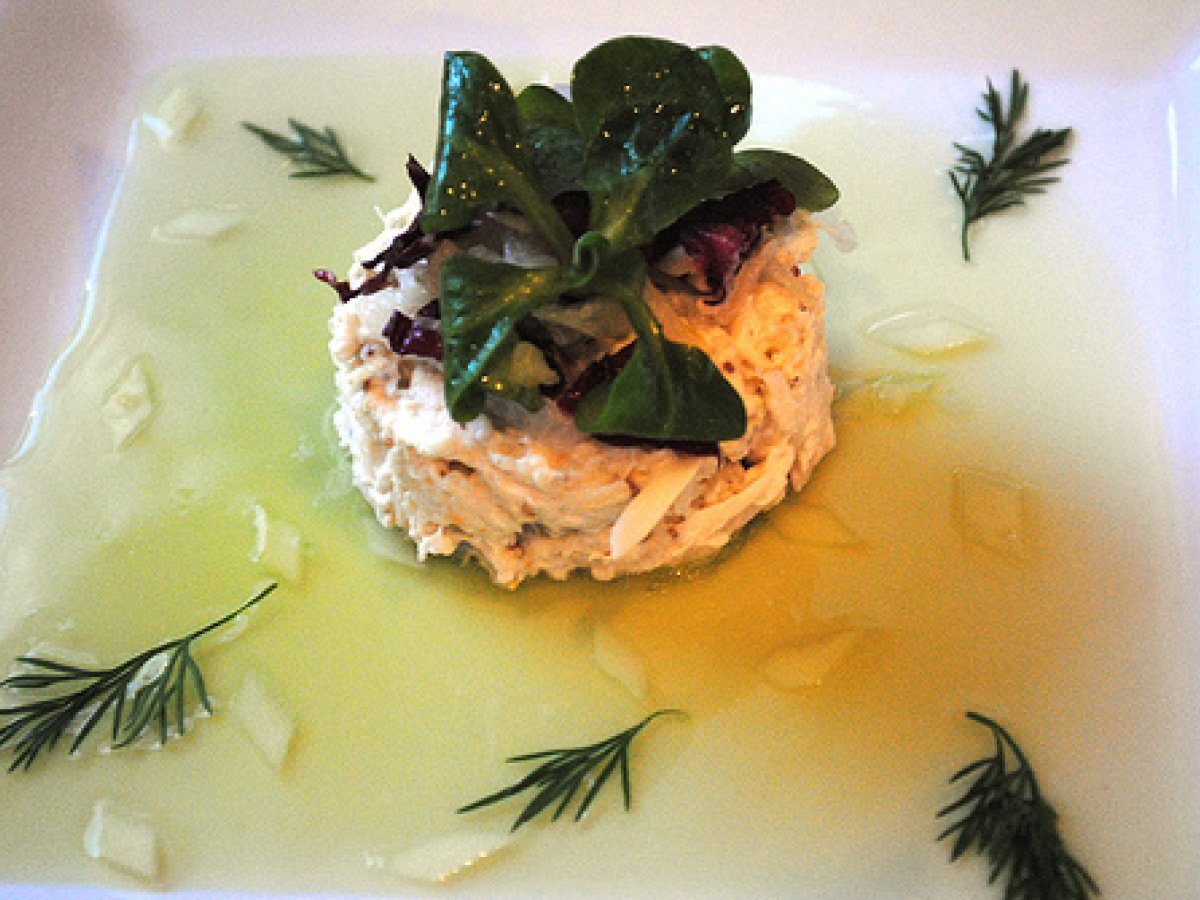 Questions:
Related recipes
Recipes
Related articles