Kadukka/kallumekaaya/mussel roast
Kadukka/kallumekaaya/mussel roast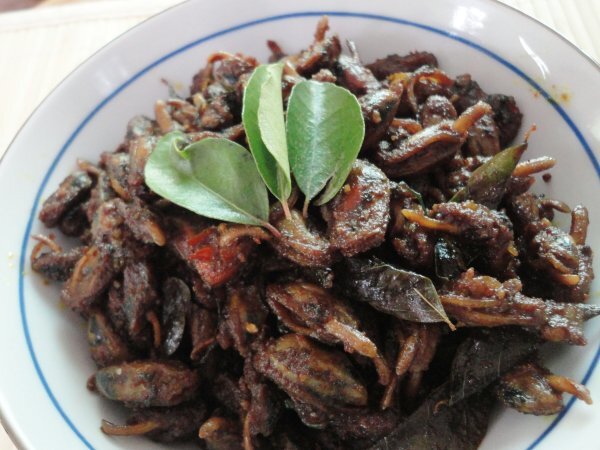 With all the agreements and disagreements that my husband and I have, the one thing that both of us doubtlessly share a heart and soul is in our love for mussels :)
We are definitly die hard fans of this thing!!

Though my husbands love for mussels started way when he was a child, mine started quite later, actually I had never seen or heard of this stuff until my post graduation days.
I was first introduced to mussels by a good friend and hostel mate,S, who hailed from Kozhikode, Kerala, the land famous.
Ingredients
Mussels
- 1/2 kg cleaned and washed well
---
Onion
- 1 small diced (optional)
---
Chilly powder - 1 tbsp
---
Coriander powder - 1 tbsp
---
Turmeric powder - 1/2 tsp
---
Asaphotida powder - 1/4 tsp
---
Fennel powder - 1/2 tsp
---
Pepper - 1/4 tsp crushed coarsly
---
Garam masala powder - 1/2 tsp
---
---
---
Oil - 3 -4 tbsps
Preparation
Tip in all the powders into the cleaned mussels and mix well. Leave to marinate for around 15 mins.
Meanwhile, heat around 2 tbsp oil in a wok and add the diced onion, sauté till translucent.
Now drop in the marinated mussels along with the curry leaves and cook uncovered by constant stirring.

Once,the water from the mussels completely dry up you may add another tbsp or 2 of oil and cook by stirring until you get a nice and crispy roast and seen in the pictures. This might take nearly 10-15 mins.

Serve this pipping hot with some steaming rice and curry or Ghee rice.
Questions:
Related recipes
Recipes