Kori sukka(mangalore style spicy dry chicken curry)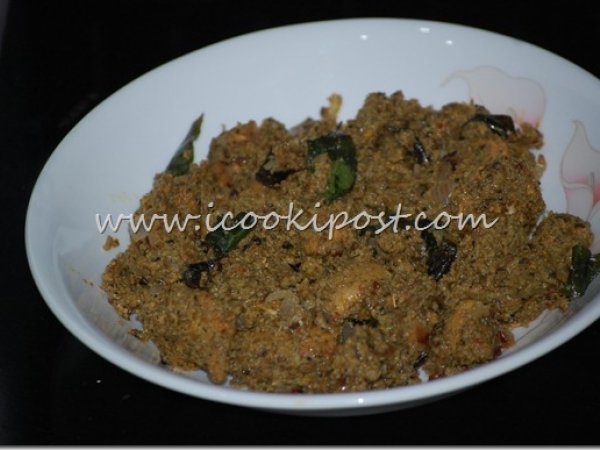 Ingredients
---
---
---
---
Turmeric powder 3/4 tsp
---
Black Peppercorns 1 tsp
---
---
Fenugreek seeds 1 tsp
---
Poppy Seeds 1 tsp
---
Dry red chilly 6
---
Tamarind paste 1 tbsp
---
Garlic cloves 4
---
Cumin seeds 1 1/2 tsp
---
Curry leaves 3 sprigs
---
Salt
---
Ghee or Butter 3 tbsp
Preparation
Heat 1/2 tbsp of ghee or butter in a Pan.
Roast coriander seeds,turmeric powder,black peppercorns,fennel,fenugreek and poppy seeds.
Once the aroma starts to rise,turn off the heat and let it cool.
Add the whole red chillies, tamarind paste and grind it to a paste. Keep aside.
The actual recipe calls for 15 red chillies. If you want it more spicy you can add it.
Grind together grated coconut,garlic and cumin seeds into a coarse dry paste without adding water.
Mix the chicken pieces with the first paste and leave it for 10-15minutes.
In a large frying pan with a lid,heat 1 1/2 tbsp of ghee or butter add the marinated chicken pieces and stir well. Cook on medium flame without adding water.
Open and stir occasionally. Once it is cooked well,add the coconut paste and salt. Cover and cook for 5 more minutes.
In a small pan, heat the remaining ghee, add curry leaves and fry. Add the chopped onions and fry until light brown.
Pour this as a garnish over the dry chicken mix. Serve hot with rice or roti. This serves for 6 people.
Related recipes
Recipes