Morroccan spiced grilled drumsticks
Morroccan spiced grilled drumsticks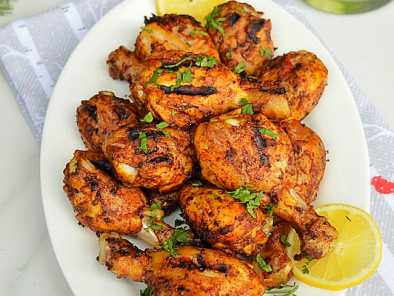 Chicken drumsticks, coated in a simple, and flavorful marinade, then grilled to perfection.
Ingredients
4 lbs. grain fed, skinless
chicken
drumsticks
---
Marinade
---
---
---
---
1 1/2 tsp red chili powder
---
Pinch of saffron
---
1/2 tsp Kashmiri chili powder (just for color)
---
---
2 tbsp. olive oil
---
1 tsp cumin powder
---
zest from one lemon
---
3 tsp ras-el hanout or 1 tsp ground coriander, 1/4 tsp all spice, 1/4 tsp cinnamon, 1/2 tsp fennel powder,1/2 tsp cardamom powder, 1/4 tsp rose petals, 1/8 tsp cloves, 1/4 tsp ginger powder
---
Sea salt to taste
Preparation
Rinse chicken under water and pat dry.
Slash at a couple of places on meaty part. (this helps the marinade to penetrate).
Place the chicken in a large ziploc bag or a big glass bowl.
To prepare the marinade - Pound garlic, saffron and sea salt into a paste. Slowly add in the other spices, olive oil, whisked thick yogurt, zest and lemon juice. Taste it. You want the marinade to be a quite a bit salty and spicy, because you're adding it to a lot of chicken.
Pour the marinade. Seal it and massage the marinade into all pieces of chicken or toss to coat. Refrigerate for at least 30 minutes or up to 8 hours or (preferably) overnight, tossing occasionally.
Preheat your grill. Bring marinated chicken to room temperature.
Remove chicken drumsticks from marinade, and place them on the grill (make sure to oil the grill so the chicken doesn't stick).
Grill chicken on medium heat for 25-30 minutes, turning over the pieces and basting with the leftover marinade, until juices run clear when chicken is pierced (if it's pink then you'll need to cook the chicken more).
Serve the drumsticks after they've cooled for a few minutes with quinoa pilaf and roasted vegetables or salad.
Questions:
Related recipes
Recipes