Yogurt tomato pesto dressed veggie salad
Yogurt tomato pesto dressed veggie salad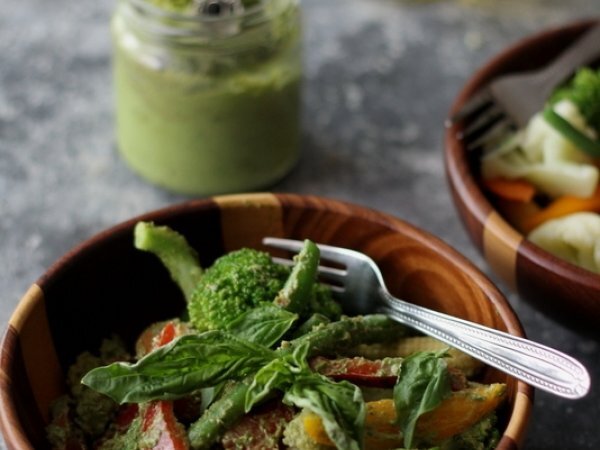 A colorful crunchy veggie salad in a low fat pesto dressing
Ingredients
---
---
1 small
carrot
(peeled and cut diagonally)
---
---
1 small red capsicum (sliced)
---
1 small yellow capsicum (sliced)
---
8-10 baby corns
---
For dressing;
---
---
A handful of walnuts (1/4 cup approx, +/-)
---
2 cloves garlic
---
2 green chillies
---
11/2 tbsp parmesan
---
1 tbsp yogurt
---
4-5 sun dried tomato slices (available at Fab India)
---
3-4 tbsp olive oil (+/- the amount to achieve desired consistency)
---
Salt to taste
Preparation
For the salad, keep a bowl of ice cold water ready.
Bring a large pot of water to a boil and add 1 tsp salt. Boil each vegetable individually since each has a different cooking point.

Cook just enough so that each veggie retains some crunch. Immediately plunge into the cold water.

Remove from the cold water and drain. Place the veggies on a towel to remove excess water.

For the dressing, put all the ingredients together in a food processor or a grinder. Blend well and adjust the seasoning and flavours.

Pour the dressing over the veggies and serve.
Questions:
Related recipes
Recipes