Pasta with fresh salmon and lumaconi
Pasta with fresh salmon and lumaconi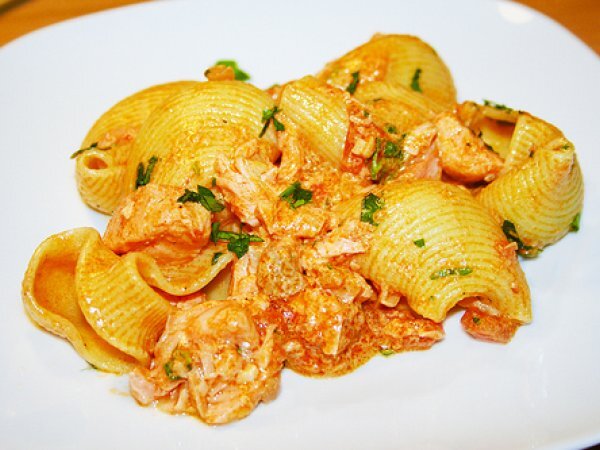 This is a simple and delicious dish for lovers of fresh salmon.
Preparation
Bring salted water to boil and put the pasta in. Meanwhile heat a frying pan, add some olive oil and brown the onions.
Add the garlic and roast it for a few minutes. Add the tomato paste. Stir. Add the cream and keep stirring.
Free the salmon of any bones and skin and chop into big chunks. Put the fish into the pan, reduce the heat and simmer for a few minutes.
Drain the pasta and add to the frying pan. Mix the pasta with the sauce and the fish. The fish should be just done.
Maybe even still a bit raw in the middle by the time you add the pasta. The hot noodles will just give enough heat to get the salmon done.
Place on a plate and sprinkle with lots of parsley.
Questions:
Related recipes
Recipes