Paula deen's lean: sour cream pork chops with vidalia onion gravy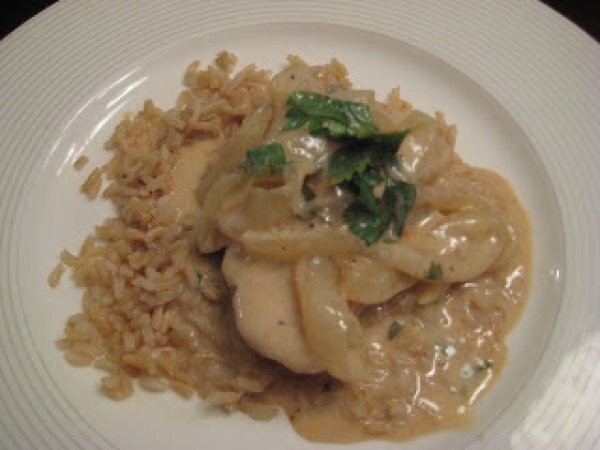 Recipe type:

Main Dish

Number of serving:

2 servings

Preparation:

15 min

Cook time:

30 min

Ready in:

45 min

Difficulty:

Very Easy
Ingredients
- Fat Free
Olive Oil
Cooking Spray
- 4 (1-1/2 to 2-inch-thick) boneless
pork
chops
- 1-1/2 cups sliced Vidalia
onions
, separated in rings
- 1 cup Low-Sodium Fat Free
beef
broth
- 1 tablespoon fresh chopped
parsley
- 1 teaspoon paprika (optional)
- 1 teaspoon yellow mustard
- 1/2 teaspoon salt
- 1/2 teaspoon black pepper
- 1 (8 ounce) container FAT FREE sour cream
- Hot cooked rice (suggested: UNCLE BEN'S WHOLE GRAIN RICE: Microwavable-ready in 90 seconds)
- Garnish: chopped fresh parsley
Preparation
Step 1
Coat a large skillet with olive oil cooking spray and place it on the stove over medium heat.
Step 2
Add pork chops and cook for about 4-5 minutes on each side or until cooked through. Place the onions over the chops.
Step 3
In a small bowl, combine broth, parsley, salt, pepper, mustard and paprika. Pour broth over the pork chops and onions. Return mixture to a boil.
Step 4
Reduce to medium, and simmer for 30 minutes, stirring occasionally. Stir in sour cream until blended and cook for 4-5 minutes. Do not boil.
Step 5
This is simply to heat the gravy through after adding the cold sour cream.
Step 6
Serve over cooked rice and garnish with parsley.
Questions:
---
---
Related video
Related recipes
Recipes
Related articles
Impress your friends with these St Patrick's day recipes!