Savory rice dumplings/nyonya bak chang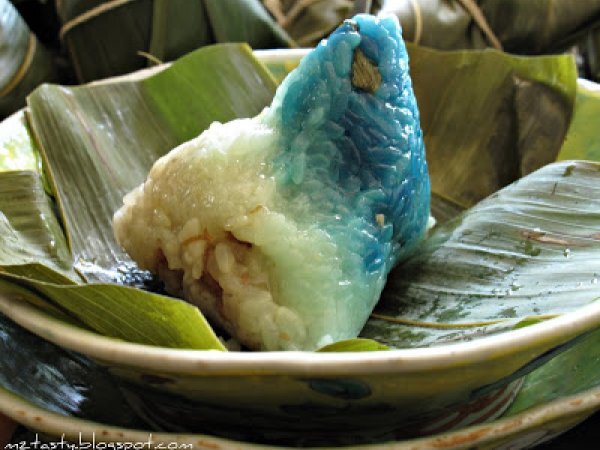 Preparation
Rinse glutinous rice until water runs clear, picked out stones and dirt in the rice. Remove about 200 gms of rice into a bowl and add blue coloring, one tablespoon of oil and a pinch of salt. Mix well to incorporate coloring into rice. To the remaining of the rice, add one tablespoon of oil, salt and mix well.
Ground all the spices ingredients finely. In a deep pan or wok, heat oil and fry garlic and shallots until soft. Add in mushrooms and dried shrimps and fry until fragrant. Then add the chicken meat and seasonings and stir until cooked. Season to taste with salt and/or sugar. Add in the candied melons, if using and fry for another minute. Remove from heat and let cool. When completely cool, add in the peanuts.
Wipe the bamboo leaves dry and drained. Arrange all the ingredients on the table. How to make a string cradle: Cut strings of 3 feet lengths. Put them together and tie a knot with a loop at the end of the strings or tie it over a chair. The loose ends will be use for tying the wrapped dumplings.
Bring a big pot of water to a boil, making sure the water is enough to cover the dumplings. Add 1 tablespoon of salt to the water. Put in the tied dumplings and cook over high heat for 1-1½ hours, until the rice is completely cooked or until the rice shapes has dissappeared and form into a smooth triangle shaped dumpling. Remove, drain and serve warm.
Questions:
You may like
Recipes