Bak chang (zongzi / savoury rice dumplings)
Bak chang (zongzi / savoury rice dumplings)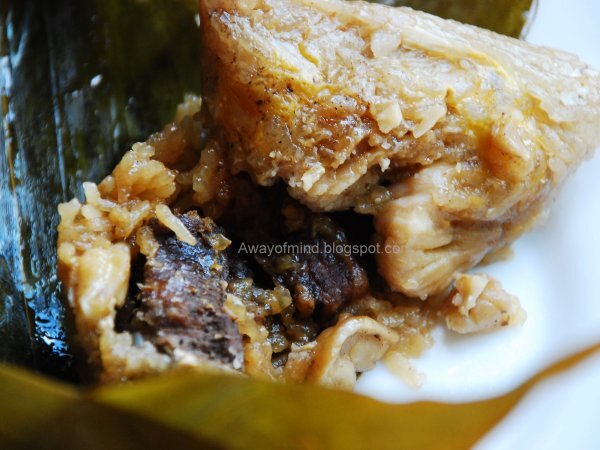 glutinous rice, mushrooms, dried shrimp, dried chestnuts, etc.
Preparation
Marinated pork belly:
1. Add 2 tbsp sugar, 2 tbsp dark soy sauce, 2 tbsp light soy sauce, 2 tbsp five spice powder. Mix well and marinate overnight in fridge.

Step:
1. To prepare filling: heat oil in wok, stir fry marinated pork for 5 mins, add mushrooms and dried chestnuts. Add some water and let it simmer for another 10 mins. Set aside.

2. To prepare glutinous rice: add 200ml oil into the wok used in (1). Add garlic and dried shrimp, stir-fry until fragrant. Add glutinous rice, mix well. Sufficiant oil added will ensure the rice wouldn't stick on the bamboo leave later. Add 4 tbsp light soy sauce and 2 tbsp dark soy sauce.

3. To assemble: Overlap two pieces of bamboo leaves, make a cone shape and press in a spoonful of rice, top with filling and cover with rice again. wrap up the rice dumplings and tie with grass strands.

4. To Boil: Prepare a big pot of water, heat up the water until boiling, lower down the rice dumplings, boil for at least 1.5 hours. Take out the rice dumplings while it is still hot, air dry it by hanging it up.
Questions:
Related recipes
Recipes
Related articles
Pakora: Savoury Indian Snacks for All Times