Shepherd's pie with a twist
Shepherd's pie with a twist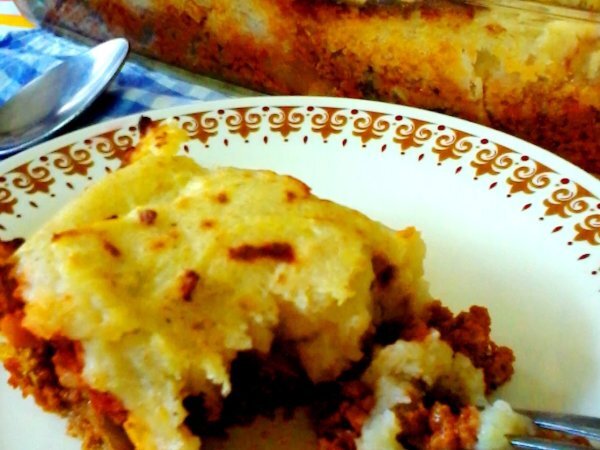 Shepherd's Pie with a little kick - curry powder!
Ingredients
---
2
cloves
of garlic, crushed and minced*
---
1 tablespoon
oyster
sauce* (you may use Worcestershire sauce)
---
*Mix all the ingredients above and let sit while you prepare the
potato
---
---
1 medium onion, finely chopped (80g)
---
1 tomato, cubed
---
1 teaspoon (meat) curry powder
---
1 teaspoon chilli or smoked paprika powder
---
2 tablespoons tomato puree/ paste
---
1 teaspoon of sugar
---
1/2 tablespoon oyster sauce *omit this if you use Worcestershire sauce to marinade the beef
---
200g mixed vegetables *you can use frozen. I use some broccoli,carrot,sweet peas and capsicums
---
salt and pepper to taste
---
600g potato (peeled and cubed to even sizes)
---
2 tablespoon fresh milk
---
2 tablespoon yogurt/sour cream *you may use all (4tbsp) milk
---
2 tablespoon soft butter or margarine
---
salt and pepper to taste
---
1 teaspoon of curry powder
---
Grated cheddar cheese *optional, I did not add
Preparation
Prepare the mashed potato:

1. Boil the cubed potatoes until soft and tender (about 25 mins).

2. Drain the potatoes and put in a large bowl. Add in the milk, yogurt, butter, salt and pepper and mash until smooth. You may add more or less liquid to achieve a fluffy mashed potato with spreadable smoothness, depending on your potatoes.

Prepare the filling:

1. Preheat the oven at 200C.

2. Saute the chopped onion in butter until fragrant. Throw in the chopped tomato and cook until soft.

3. Next, add in the curry and chilli powder. Lower the heat and add a sprig of water if the mixture is too dry. Simmer for a minute.

4. When the spices are fragrant, add in the marinated mince beef, oyster sauce (if using), tomato pure and sugar. Stir well and cook for 2 minutes.

5. Add the mixed vegetable and stir well. Season with salt and pepper (Be careful with the seasoning as the oyster sauce is already salty. You may or may not need more salt, adjust the taste to your liking).

Assemble the pie:

1. Spread the filling in a casserole dish. Top with the mashed potato and smooth the top. Sprinkle with curry powder and grated cheese if using.

2. Bake in the preheated oven for 25 mins. I add another 5 min to grill the top.
Questions:
Related recipes
Recipes