South indian mutton/lamb biryani recipe(muslim style)
South indian mutton/lamb biryani recipe(muslim style)
South Indian mutton/lamb biryani prepared in muslim style is a delicious and less spicy recipe popular among muslims living in south Tamilnadu.This biryani is prepared during festivals like Ramzan, Bakrid, weddings and other occassions in muslim families.This type of biryani is served in hotels in south Tamilnadu run by muslim families. I adopted this recipe from my muslim family friend Rashida aunty whom I know from my birth. Try this muslim style south Indian mutton/lamb biryani at home and Enjoy cooking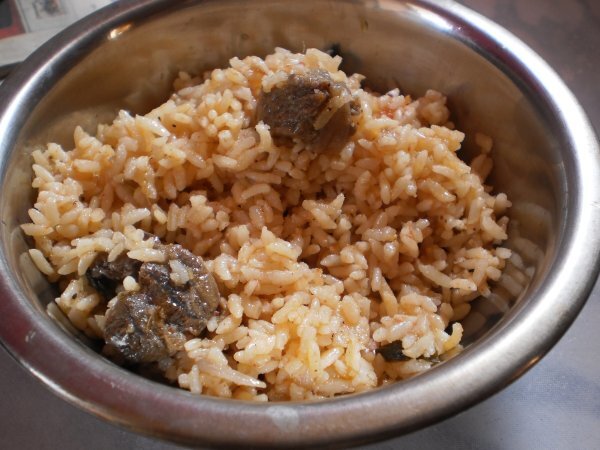 Recipe type:

Main Dish

Number of serving:

8 servings

Preparation:

30 min

Cook time:

20 min

Ready in:

50 min

Difficulty:

Easy
Ingredients
Mutton
1 kg
Jeera
rice
1 kg
Small
onions
150 gm
Onions sliced 150 gm
Ginger
paste 75 gm
Garlic
paste 75 gm
Green chillies 2 no
Chilli powder 2 tsp
Coriander powder 2 tsp
Tomato chopped 3 no
Curd 100 ml
Mint leaves 1 bunch
Coriander leaves 1 bunch
Garam masala powder 1 tsp (cinnamon, cloves, cardamom equally)
Fennel 1/4 tsp
Cardamom 4 no
Cloves 4 no
Cinnamon 3 to 4 strips (1 inch each)
Bay leaves 1 no
Lemon juice of 1 no
Salt to taste
Oil 150 ml
Ghee 50 ml
Preparation
Step 1
Wash mutton well and keep aside. Grind small onions to a fine paste.
Step 2
Heat oil in a thick bottom vessel. Add cardamom, cinnamon, cloves, fennel and bay leaves and fry for a minute.

Add ground small onion, chopped onions, green chillies (slit vertically), ginger and garlic paste. Continue frying in a slow fire till the raw smell of onions reduces.
Step 3
Add chopped tomatoes and continue frying till it gets smashed well.

Add salt, chilli powder, garam masala powder, mint leaves, corinader leaves and continue frying for few minutes.

Add mutton, curd and continue frying till the mutton gets 80 percent cooked. Add water if required.
Step 4
Wash rice and keep aside. Measure the gravy and remaining water in the ratio of 1:2.
Step 5
Transfer it to a 10 litre pressure cooker and pressure cook in a slow fire for 10 minutes.
Step 6
Remove from heat and keep aside till the pressure goes.
Step 7
Add 50 ml ghee and lemon juice and mix it.

Serve hot with Dalcha.
Questions:
---
---
Related video
Related recipes
Recipes
Related articles
10 recipe ideas you should cook for your Valentine this year