Tuna steak and caramelized balsamic onions with potato salad and honey pan fried parsnips
Tuna steak and caramelized balsamic onions with potato salad and honey pan fried parsnips
Here a receipt perfect for the family. it is a line levels. to admire the good taste of steak.
Ingredients
---
300grs new
potatoes
(depending on size, washed halved and cooked)
---
250grs Greek yoghurt tub
---
a little bunch of chives (chopped)
---
---
2
parsnips
(cut in half, then in half lengthways and finally thinly sliced)
---
---
4 soup spoons of balsamic vinegar
---
1 tea spoon of butter
---
1 tea spoons of honey
---
1/2 tea spoon of brown sugar
---
some olive oil
---
salt and black pepper to taste
---
1/2 tea spoon sweet paprika
---
1 soup spoon of sesame seeds
Preparation
Get the new boiled potatoes and place them in a bowl, in there you put the yoghurt a little salt and pepper a little olive oil (like a couple of spoons) a few drops of lemon juice and of course the chives.
Give this a gentle stir so it evolves all the potatoes and is ready to serve.
The parsnips peal them and cut them in half, then halve the halves lengthways then cut thin slices.
Now put a frying pan on the stove med temp, put a little olive oil in it, and once hot put all of the parsnip in + the sesame seeds and a tea spoon of butter + a little seasoning "salt and pepper" , stir the parsnips occasionally ensuring they get brown on both sides, at that stage ad 2 soup spoons of balsamic vinegar and the honey let it cook till is nearly burnt and there is ready to serve too.
In a pan place a little olive oil and once hot add the onions, while these ones brown, smear the garlic on the tuna+ a little salt and pepper, back to the onions keep stirring them over and over until golden at this stage move them to one side inside the pan and add the tuna steak (if need be add a little more olive oil) add also a few drops of water and push the onions back over the tuna, and cover the pan with a lid, after about 3 minutes remove lid and add the sugar, paprika and the balsamic vinegar a few more drops of water, lid back on cook another 2-3 minutes sand the tuna will be cooked.
The tuna will cook very quickly and should not overcook or will become too dry and chewy, tuna if very fresh can be eaten like a steak.
Photos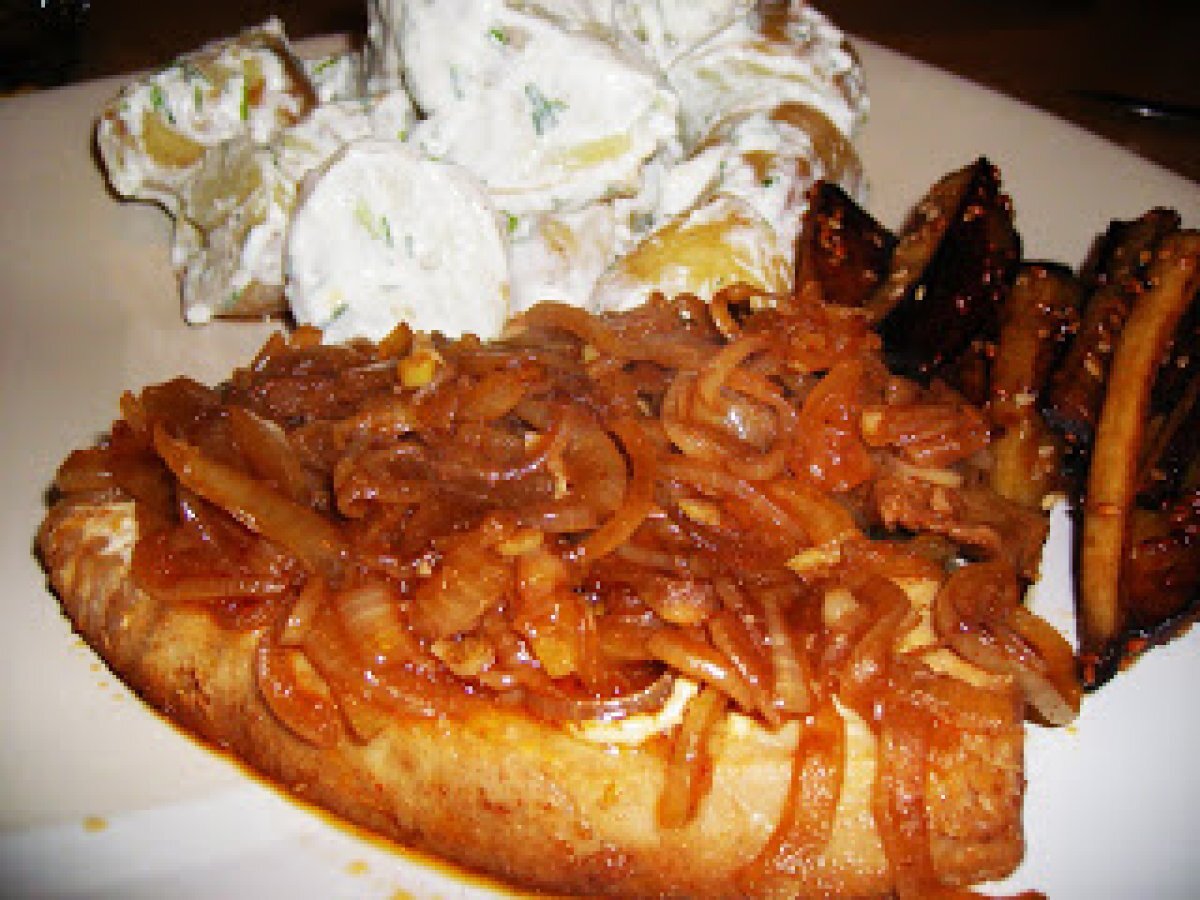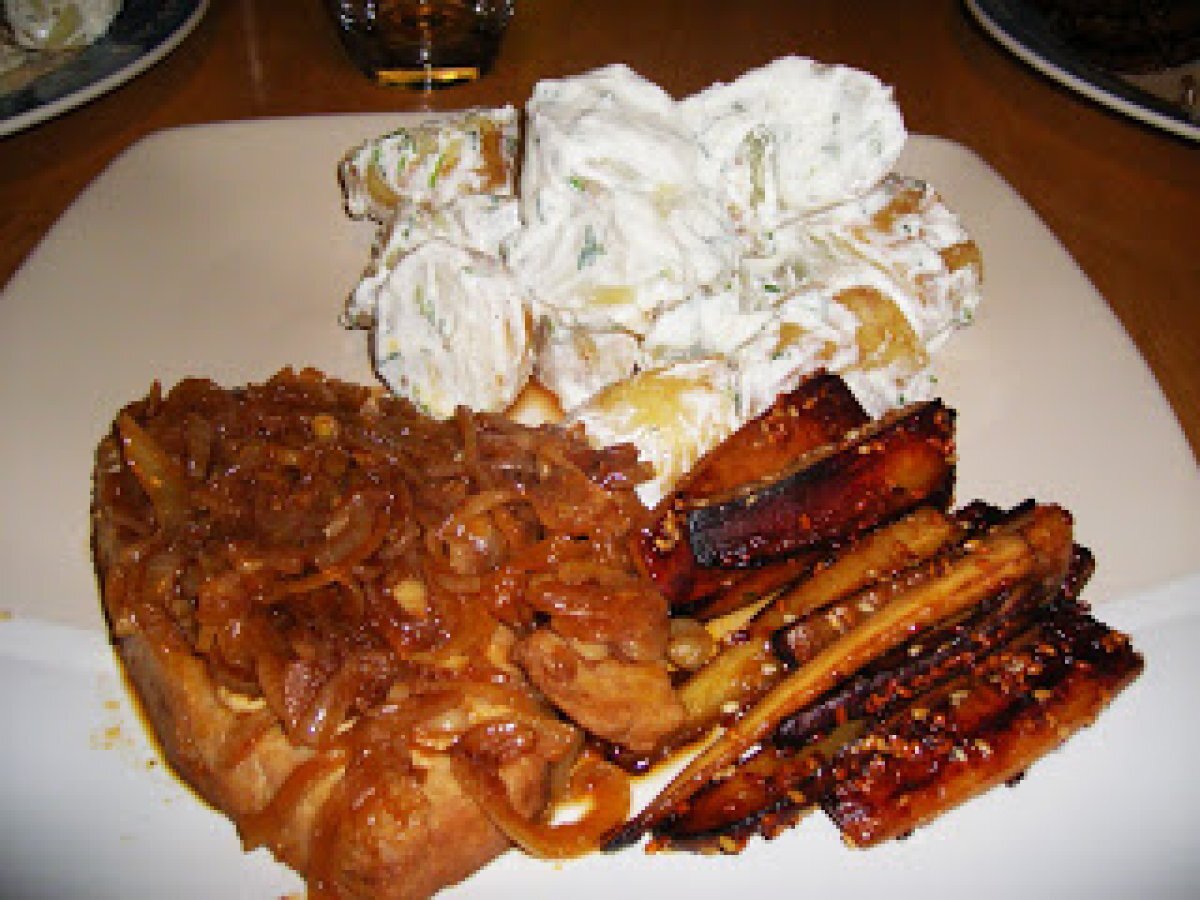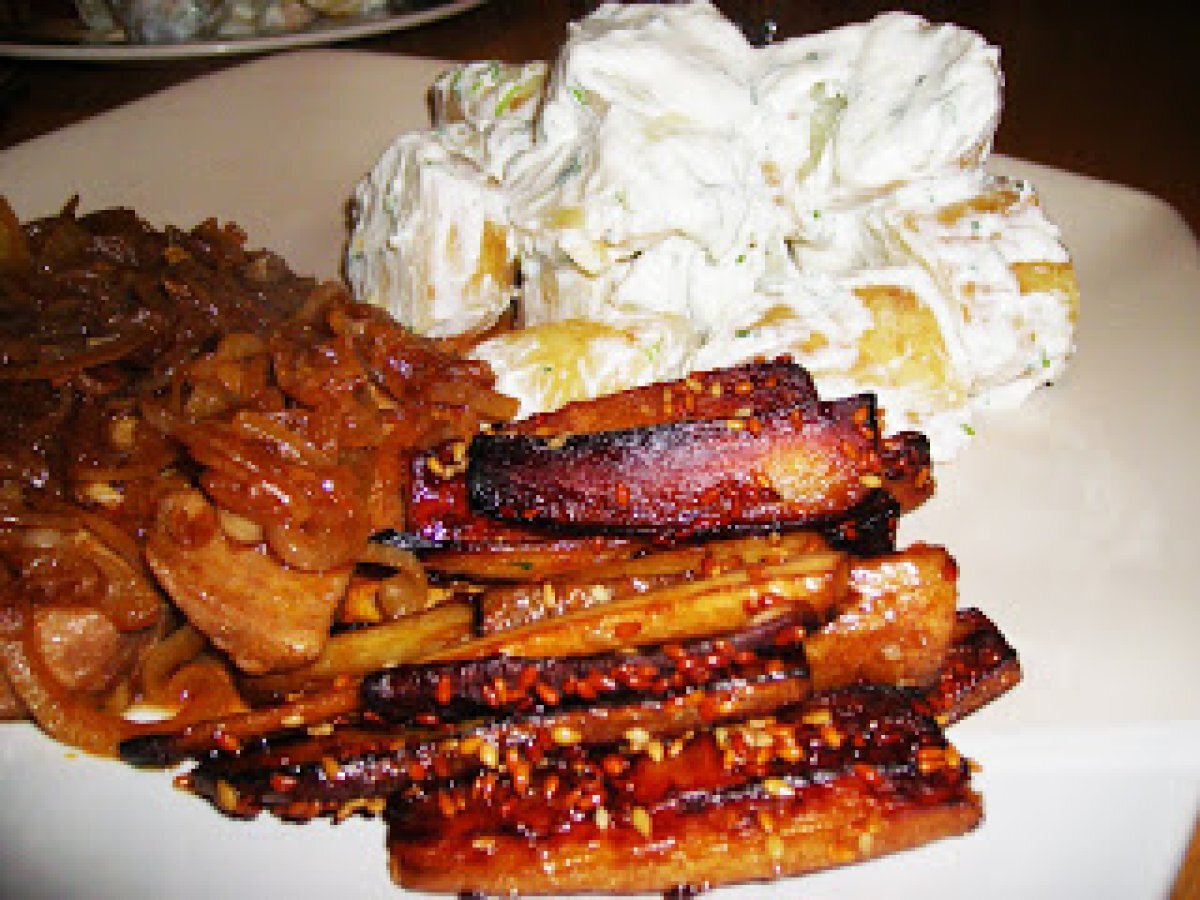 Questions:
Related recipes
Recipes