Veggie burger (indian style)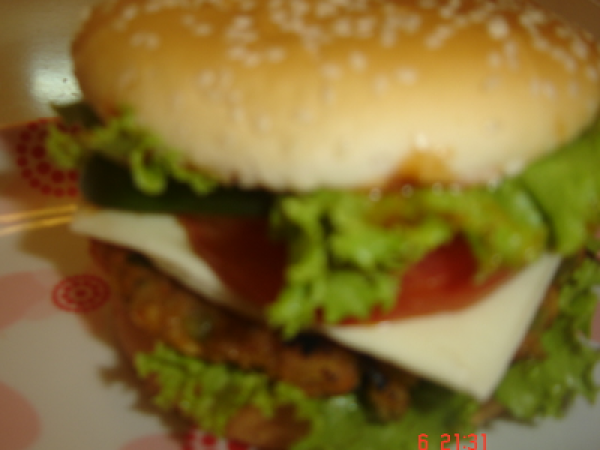 Recipe type:

Other

Number of serving:

4 servings

Preparation:

10 min

Cook time:

8 min

Ready in:

18 min

Difficulty:

Very Easy
Ingredients
- Burger buns
- 1 cup grated Carrot
- 1/2 cup grated Potato
- 1/2 cup chopped Bell pepper
- 1/2 cup crushed
Peas
- 1 teaspoon Green Chili paste
- 1/2 Garam Masala
- 1 teaspoon
lime
juice
- 3 tablespoons Bread crams
- 2 tablespoons chopped coriander
-
Salt
to taste
- 1 White
Onion
thinly sliced
- 2
Tomato
thinly sliced
- 4 tablespoons Mayonnaise or Sour cream
- Cheese sliced
- Lettuce leaves
- Butter or oil
- Tomato sauce
Preparation
Step 1
Take microwave safe bowl mix grated potato, carrot, bell pepper, peas, and 3/4 cup or required water.
Step 2
Put microwave about 7-8 minutes. Should mixture is dry and cooked nicely.
Step 3
Cool the mixture add bread crams, coriander, green chili paste, garam masala powder and salt mix well.
Step 4
Divide into equal portions and shape each portion into a 1/2" thick round patty or cutlets.
Step 5
In a Pan add oil or 1/2 teaspoon butter and roasted patty, till look brown and little crispy.
Step 6
Place each burger lightly toast now place a 1-2 lettuce leaves and 1 tsp mayonnaise or sour cream on the lower half of the bun.
Step 7
Place the patty, tomato sauce, onion, cheese, tomato slices and lettuce leaves over it.
Step 8
Cover with the remanding half of the bun and press it lightly.
Step 9
Serve immediately.
Questions:
---
---
Related video
Related recipes
Recipes