Every time my mother sees this vegetable she would say, you know I used to cook this snake gourd stuffed with minced meat, it?s a delicacy, I have to try it one of these days. This has been going on for years (nearly 20 years), but she never made it. I only had a vague memory of having eaten this as a child, but was sure it was delicious. Finally, I decided to give it a try and when I called her to check out the recipe, she started; 'you know, I always want........ ', while I was thinking,' I have heard that before'. Yes, It was undoubtedly delicious and I realised why my mother went on and on about it or why I couldn?t forget the taste after all those years. She even called up later, eagerly to check if it came out well, though she wasn?t going to taste it even if she had made one, now that she has turned to vegetarian food for the past 5 years or so. I loved it and it is best when eaten hot.
Ingredients
Snake gourd 1k
Onion 3 small size or 2 medium size
Ginger garlic paste 1 1/4tsp
Chilly + coriander powder 2tsp
Salt 1/4tsp
Cinnamon, cardamom, cloves 3 each
Black stone flower 1 (small)
Fennel 1/4 tsp
Oil 1 1/2tbsp + 4 tbsp
Minced chicken or mutton 1/2k
Bengal gram flour 2tbsp
Method
1. Pressure cook minced chicken with 1/2tsp of turmeric powder and a tsp of salt.
2. Heat 1 1/2tbsp of oil in a pan, add the whole garam masala, add finely chopped onion and saute until, soft and crisp.
3. Add ginger garlic paste, stir, add chilly + coriander powder, salt, stir for a minute on low heat.
4. Add cooked minced chicken ( without any liquid ), stir well. Check for salt.
5. Stir until everything is well mixed, the mixer should be dry. Add chopped coriander leaves if desired, stir, remove from heat and let it cool. ( if there?s any large piece of chicken, mash it with the back of the ladle)
6. Scrap the outer skin of the snake gourd, cut into finger length portions and de-seed the vegetable.
7. Make a thick paste, using the gram flour by adding little water.
8. Stuff the minced chicken mixture in each of the snake gourd portions and seal the open ends with the gram flour paste( this is done to prevent the filling from coming out, while cooking the snake gourd)
9. Heat a tbsp or two of the oil in a sauce pan, transfer one batch of the stuffed snake gourds to the medium hot pan and cook. Stir lightly to cook the vegetable on all sides. Repeat the same with the rest of the snake gourds. Serve hot.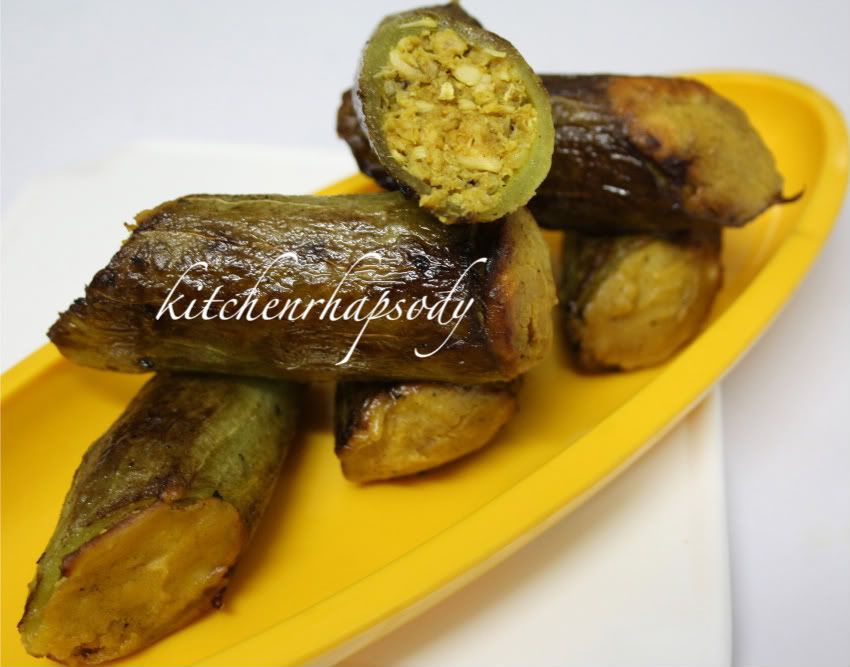 Note
:
The snake gourds, that I have mentioned here is not the short bulb variety, but the long gourds, which are really thin and long like a snake.
Can use cornflour or flour (maida) instead of bengal gram flour.