One fine day one of my friend asked me, ?How we-Indians got independence??
I said we fought, struggled and latter got the freedom.
To this my friend said a story behind this fact that how we actually got the freedom from the Britishers. My friend said that one fine day the Britishers were invited by Gandhiji over a evening snack gathering. Those were served then with ?
Samosas
? with the tea. The Britishers got so amazed to see the Samosas. They wondered how come the potatoes went inside the samosas without a cut, slip or any opening. They were so surprised with the culinary skills of Indians and they gifted us by signing a treaty of freedom, the Independence. Perhaps, it?s the Samosas that we owe our freedom!
Well on the serious note
, that?s all not true yet there have been so many stories attached the making of Samosas. For Samosas are truly delight tasty little savoury patties originated from India. In India, it is available every hook and corner of the street, quite cheap, easy to make and full of strong appetizing flavour.
Every person have their own signature way of making and adding the ingredient...yet I?m presenting the basic and the easiest way of making this snack that would be served at your tea-time or any time of the day when you like to munch a bit!::The ingredients make around 15-20 samosas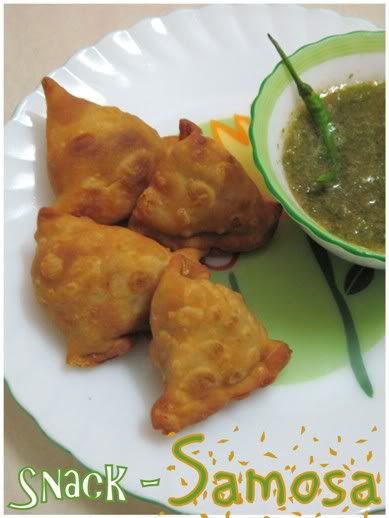 Samosa
For the quich easy delicious Recipe check the link below:
Quick Indian Snack - Samosa recipe
at ButterPunch Blog at happy hours :)
I write not because "I Have to"
But because I "
Want
" to
...rachanaShakyawar
Hope you like the article, Don't forget to mention your views in the comment section or link to us.
Thank you.