Dahi bhallas / lentil ballas in yogurt sauce
Dahi bhallas / lentil ballas in yogurt sauce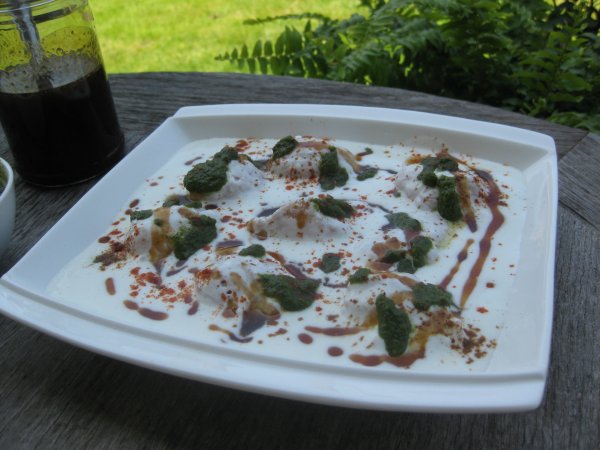 Its a popular street food often eaten as a starter and as a side with main course.
Ingredients
---
1/2 cup washed moong lentil
---
1/2 tsp methi seeds ( fenugreek seeds)
---
salt, red chilly powder as per taste
---
1 tsp garlic powder
---
1 tsp
cumin
seeds(optional)
---
canola oil to fry
---
To serve
---
yogurt sauce
---
green chutney
---
date and tamarind chutney (must)
---
---
Ingredients for yogurt sauce
---
---
---
salt, black pepper as per taste
---
1/2 tsp black salt
---
1/2 tsp roasted cumin powder
---
1/2 tsp red chilly powder
Preparation
Wash and soak both lentils and methi seeds in separate bowls for 6 hours or overnight.
Drain all the water, grind lentils and methi seeds in a blender by adding just a tbsp of water when required. You should be able to grind it to a smooth fluffy mixture by adding not more than 1/4 cup of water.
Remove ground lentil mixture in a bowl. Add salt, garlic powder, cumin (if using) and black pepper.
Whip up the lentil mixture for 5 minutes. To check whether your mixture is perfect or not, drop a pea size mixture in a cup of water, if it floats the mixture is perfect and ready to make vadas.
Heat oil in a frying pan. Reduce the heat to medium for even cooking. Dip your spoon in water and drop spoonfuls of lentil mixture in medium hot oil. Keep rolling (check the video here what I mean by rolling) the skimmer in oil to make the vadas roll over and turn golden.

Delicately lift lentil balls with a wok skimmer, draining as much oil as possible, and transfer them onto paper towel. Fry all vadas until you useup the lentil mixture.
Soak 8 vadas (rest you can freeze) in warm water for 5 minutes. Gently squeeze excess water from vadas by pressing it gently between your palms and lay them in a flat serving bowl.
To make yogurt sauce:

In a bowl, whisk yogurt with water or milk or butter milk until smooth. Season with salt, black salt and ground black pepper. Pour it on the squeezed vadas. Refrigerate for couple of hours or overnight. Before serving, spoon some sweet tamarind and green chutney. To finish sprinkle red chilly and cumin powder and cilantro leaves.

Enjoy cool, filling and enticing dahi bhalla!
Questions:
Related recipes
Recipes